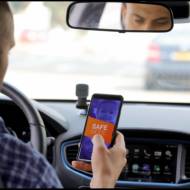 Israeli Device Saves Lives by Stopping Driver Cellphone Distraction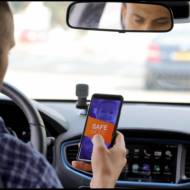 New device detects the driver's cellphone and automatically shuts down the apps except for GPS navigation and phone calls.
By Yakir Benzion, United With Israel
An Israeli company has developed a solution for the thousands of fatal car crashes each year that happen because the driver is texting while driving.
Distracted driving has become a huge safety problem with recent statistics indicating that 25% of traffic accidents are caused by drivers using cell phones.
This author recently witnessed just that – a dashcam video of a car veering over a double white line and hitting an oncoming vehicle head on. Driving conditions were perfect, but it was later revealed that the driver had been sending a message on his phone and took his eyes off the road.
SaverOne developed innovative technology using both hardware and software that allows drivers to use their smartphones, listen to music or use a navigation app, but prevents them from using apps that endanger life while driving – especially apps like WhatsApp and e-mail.
The company installs sensors in the car. When downloading and installing the SaverOne app, which works with the sensors, the driver can only use GPS navigation apps and make phone calls – and once installed, there is no choice. You can't use the other apps unless the car stops or somebody else drives.
The company says the made-in-Israel solution "can save the lives of millions of people on the streets of the world who can be victims in fatal traffic accidents."
SaverOne CEO Ori Gilboa told Israel Between The Lines magazine that the company is also working with insurance companies to offer discounts, as well as with governments to create a policy.
After the coronavirus pandemic hit, SaverOne was the first company in Israel to go public during the health crisis.
"Coronavirus is a big problem, and it has better PR than traffic accidents, but there are more deaths from people texting and driving than from the coronavirus," Gil Sheratzky, director of the Israeli high-tech startup SaverOne, told Globes.
"The battle against cell phone distracted driving is one of the main challenges in the battle for road safety," the company's website says.
In 2014, SaverOne co-founder Ami Gur read about the catastrophic death toll and injuries due to cell phone use by drivers. He wanted to find a solution to eliminate the phenomenon of traffic accidents caused by life-threatening use of cell phones.
Convinced the concept was sound, Gur teamed up with Yossi Cohen, a senior manager at one of Israel's largest telecommunications companies. Together they started SaverOne and developed their life-saving solution that prevents physical and property damage, generates significant monetary and resource savings, and creates a safer driving culture.
HELP ISRAELIS BATTLE CORONA!
Donate to the Corona Emergency Relief Fund. Coronavirus has taken a huge toll on the people of Israel. The poor, elderly and ill are most vulnerable.

Israeli soldiers, security officers and medical care providers operate under great danger and risk to life.

Over 1 million Israelis are out of work. Many cannot make ends meet. We provide financial aid, food, medical supplies and more. Funds are distributed where needed most. The time to act is now!
The post Israeli Device Saves Lives by Stopping Driver Cellphone Distraction first appeared on United with Israel.

United with Israel