'WE LOVE YOU': Iranians Visit Israel to Show Support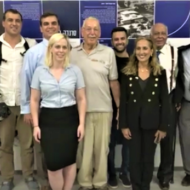 "We are your friends," said a member of the delegation named Ahmad Batebi, an Iranian-American journalist, filmmaker, photographer and human rights activist.
"A delegation of Iranian expatriates, including former political prisoners, visited Israel last week for a solidarity mission to the Jewish state," TPS reported.
"The group was composed of political dissidents who oppose the current Islamic Republic of Iran's autocratic regime."
They came to spread their message of solidarity and peace with the Jewish state, and to reject the oppressive Islamic Republic regime.
Do You Love Israel? Make a Donation to Show Your Support!
Donate to vital charities that protect Israelis and help inspire millions around the world to support Israel too!
Now more than ever, Israel needs your help to fight – and win – the battle of public opinion.
Anti-Israel bias and boycotts are out of control. Israel's enemies effectively use social media to incite brutal terror against innocent Israeli civilians. Please help us fight back!
The post 'WE LOVE YOU': Iranians Visit Israel to Show Support first appeared on United with Israel.
United with Israel