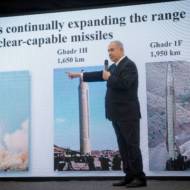 Iran Admits Mossad Spies Nabbed Trove of Nuclear Files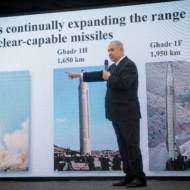 Iranian president acknowledges stolen archive damaged the Islamic Republic.
By Pesach Benson, United With Israel
On Monday, the final day of Iranian president Hassan Rouhani's administration, the figurehead Iranian leader acknowledged that Israeli agents smuggled out of the country an entire warehouse of nuclear archives in 2018.
"The secrets that the Zionists came and took from inside [the country], published and showed to [former US president Donald] Trump [led him] to abandon the [nuclear] agreement," Rouhani told government officials at a meeting which was covered by Fars, Iran's state-run news agency..
Rouhani claimed he was not confirming the authenticity of the documents.
Rouhani also said Iran is losing the battle of international opinion to Israel.
"Our media could not defeat the conspiracy of the Zionist media," he said, a day before "Butcher of Tehran" Ebrahim Raisi was inaugurated as the nation's new president.
Raisi is accused of heinous war crimes, including playing a role in the slaughter of his own people.
In 2018, Mossad operatives broke into a Tehran warehouse and stole approximately 110,000 documents. Rather than make copies, the agents were specifically took the original documents. The half-ton trove was reportedly smuggled back to Israel the same night.
The seized files confirmed Israeli assessments that Iran's atomic program, Project Amad, was geared towards developing nuclear weapons. Iran continues to maintain that its nuclear program is peaceful, a claim that is widely doubted. Documents shared with the media showed the program was larger and more sophisticated than previously believed.
The archives also identified Project Amad's key figures, such as Iranian Revolutionary Guards Corps Brig.-Gen. Mohsen Fakhrizadeh, the father of Iran's nuclear weapons program.
Fakhrizadeh was assassinated in 2020.
According to reports, details from the stolen archives were a critical factor in president Donald Trump's decision to withdraw the U.S. from the Iranian nuclear agreement in 2018.
Raisi, who was sworn into office on Tuesday morning, is also known as The Butcher of Tehran for overseeing the mass execution of thousands of political prisoners in 1988.
PLANT FRUIT TREES IN ISRAEL BEFORE SABBATICAL BEGINS!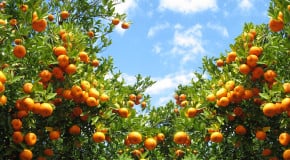 HELP ISRAELI FARMERS PLANT NOW – BEFORE SHMITA!

TIME RUNNING OUT to make the Land even more fruitful while helping Israeli farmers offset financial losses from Covid, Hamas arson fires and the upcoming Sabbatical year.

"…the seventh year shall be a complete rest for the Land…"

"…I will ordain My blessing for you…"
(Leviticus 25:4,21)
CLICK TO PLANT YOUR FRUIT TREES IN ISRAEL TODAY, BEFORE IT'S TOO LATE!
The post Iran Admits Mossad Spies Nabbed Trove of Nuclear Files first appeared on United with Israel.
United with Israel