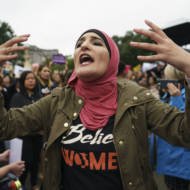 VIDEO: 'Shame' on Anyone Who Gives 'Anti-Semite' Sarsour a Platform, Says Jewish Activist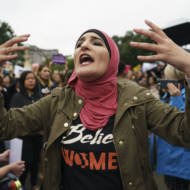 Former New York State assemblyman Dov Hikind is outraged that anti-Israel crusader Linda Sarsour is being given a platform.
Linda Sarsour has faced consistent accusations of anti-Semitism since she appeared on the national stage as one of the leaders of the Women's March.
In fact, she was forced to resign from that position because the organization couldn't shake the cloud of her anti-Semitism scandal.
Former New York State assemblyman Dov Hikind can't believe his eyes that she is now being given a national platform to legitimize her views.
WATCH: "Hey man" @JoeBiden, I have a message for you and all @TheDemocrats:

YOU'RE A BUNCH OF HYPOCRITES & FRAUDS!

Featuring vile antisemite Linda Sarsour to mollify Bernie is appeasement worthy of SHAME #NotMyVote

First you mainstream haters, then their hatred #NotOnMyWatch https://t.co/qn7m8RrwOa pic.twitter.com/Vr4xXa3mSu

— Dov Hikind (@HikindDov) August 19, 2020
HELP ISRAELIS BATTLE CORONA!
Donate to the Corona Emergency Relief Fund. Coronavirus has taken a huge toll on the people of Israel. The poor, elderly and ill are most vulnerable.

Israeli soldiers, security officers and medical care providers operate under great danger and risk to life.

Over 1 million Israelis are out of work. Many cannot make ends meet. We provide financial aid, food, medical supplies and more. Funds are distributed where needed most. The time to act is now!

United with Israel