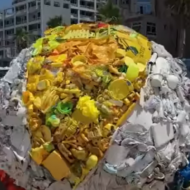 VIDEO: Israeli Artist Finds Creative Way to Promote Environmental Responsibility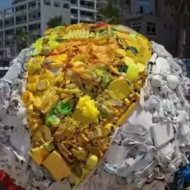 The largest ball of plastic you've ever seen can be found on a Tel Aviv beach!
Every year, 20 million tons of waste are thrown into the sea, half of which was for one-time use. But it stays in the oceans for hundreds of years, hurting the environment and causing harm to everyone.
Israeli artist Tal Tenne Czakes created a massive beach ball structure out of plastic waste and placed it on one of Tel Aviv's main beaches to promote environmental responsibility.
Watch and learn how the ball was made, as well as how this project personally impacted the artist's life.
Do You Love Israel? Make a Donation to Show Your Support!
Donate to vital charities that protect Israelis and help inspire millions around the world to support Israel too!
Now more than ever, Israel needs your help to fight – and win – the battle of public opinion.
Anti-Israel bias and boycotts are out of control. Israel's enemies effectively use social media to incite brutal terror against innocent Israeli civilians. Please help us fight back!
The post WATCH: Israeli Artist Finds Creative Way to Promote Environmental Responsibility first appeared on United with Israel.
United with Israel