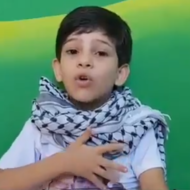 VIDEO: Brainwashed Palestinian Child Blasts UAE for Collaborating with 'Jewish Criminals'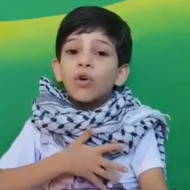 How can one hope for peace in the Middle East when children are indoctrinated to hate Israel and the Jews?
Instead of looking for opportunities provided by the historic peace agreement between Israel and the United Arab Emirates, the Palestinians are slamming the UAE.
PA President Mahmoud Abbas claims the UAE put a knife in the back of the Palestinians, sacrificing the Palestinian cause for economic benefit.
Watch as a young Palestinian boy expresses the consistent message drummed into him by his adult mentors.
HELP ISRAELIS BATTLE CORONA!
Donate to the Corona Emergency Relief Fund. Coronavirus has taken a huge toll on the people of Israel. The poor, elderly and ill are most vulnerable.

Israeli soldiers, security officers and medical care providers operate under great danger and risk to life.

Over 1 million Israelis are out of work. Many cannot make ends meet. We provide financial aid, food, medical supplies and more. Funds are distributed where needed most. The time to act is now!

United with Israel