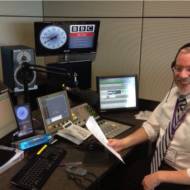 Veteran BBC Contributor Resigns Over 'Inexcusable' Antisemitism

"I simply don't see how I or in fact any Jew who has any pride in that name can be associated with the Corporation anymore."
By Pesach Benson, United With Israel
After 30 years of contributing to BBC programming, Rabbi YY Rubinstein resigned over what he called "inexcusable" antisemtism. The rabbi posted his resignation letter on Facebook on Tuesday.,
Rabbi Rubinstein, a sought-after writer and international lecturer, was a regular on BBC shows such as "Thought for the Day," "Sunrise, Sunset," other TV and radio programs. On some occasions, he even appeared on the the BBC's World Service.
In a letter addressed to a BBC staffer identified only as Gabby, the rabbi wrote, "The current crisis over anti-Semitism at the Corporation and its attempts to turn the victims of the recent anti-Semitic attack on Jewish children in London and claim that the victims were actually the perpetrators, was and is inexcusable. The obfuscation, denial that followed, was and is utterly damning."
Rabbi Rubinstein noted that the BBC was ranked number three on the Simon Wiesenthal Center's list of top antisemites of 2021, but stressed that this wasn't a reflection of Gabby or the production people that he worked with during his 30 years with the broadcaster.
But the rabbi concluded, "I simply don't see how I or in fact any Jew who has any pride in that name can be associated with the Corporation anymore."
Jews have long been frustrated by the BBC's coverage of Israel, but anger absolutely boiled over during Chanukah.
Jewish children traveling on a bus in London, on their way to a holiday celebration, were viciously harassed by a group of Muslim antisemites in downtown London. The young men shouted "Free Palestine," made Nazi salutes and other profane gestures, and spat and banged on windows. The attack was caught on video, but police have not found the suspects.
BBC coverage falsely claimed that Islamophobic slurs could be heard from inside the bus, though none were heard in the video. A linguist and forensic audio experts commissioned by the Board of Jewish Deputies concluded that the words in question were somebody saying in Hebrew, "tikra lemishehu, ze dachuf," which in English means, "Call someone, it's urgent."
Former BBC chairman Michael Grade called on the news service to provide the evidence to support their defense or rethink and issue an urgent correction and apology."
British Jews and lawmakers are demanding the BBC adopt a working definition of antisemitism developed by the International Holocaust Remembrance Alliance and pledge to keep to fair standards of coverage of Israel and the Jews.
In a statement to the Jewish Chronicle, a BBC spokesman said, "We are sorry to hear of Rabbi YY Rubinstein's decision as he has always provided thoughtful and compassionate contributions to our programmes, which have been deeply appreciated by our listeners. Anti-Semitism is abhorrent and we strive to serve the Jewish community, and all communities across the UK, fairly."
Do You Love Israel? Make a Donation to Show Your Support!
Donate to vital charities that protect Israelis and help inspire millions around the world to support Israel too!
Now more than ever, Israel needs your help to fight – and win – the battle of public opinion.
Anti-Israel bias and boycotts are out of control. Israel's enemies effectively use social media to incite brutal terror against innocent Israeli civilians. Please help us fight back!
The post Veteran BBC Contributor Resigns Over 'Inexcusable' Antisemitism first appeared on United with Israel.
United with Israel