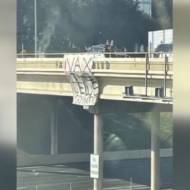 'Vax the Jews' Banner Rattles Austin Jewish Community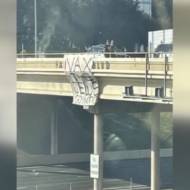 "If over time this becomes mainstream and accepted, then things get more and more serious."
By Pesach Benson, United With Israel
An antisemitic banner held over a highway coupled with antisemitic graffiti at a nearby high school have left the Jewish community of Austin, Texas, feeling rattled.
The banner — which was held up by a group of people who are members of the neo-Nazi Goyim Defense League — said "Vax the Jews." It was held over the Far West Overpass of Austin's Mopac Expressway on Sunday. Photos of the incident circulating on social media showed the people making Nazi salutes. The crowd broke up peacefully with the arrival of police officers and no arrests were reported.
The overpass is not far from Austin's Jewish community center and several synagogues.
On Friday, nearby Anderson High School was vandalized with with antisemitic and racist graffiti. Swastikas and slurs were found painted on several parking spots and on a storage shed. Police are investigating.
"It was just really scary to see that going into school," Anderson High School Senior, Aiden Horwitz told CBS Austin. She added that a police officer had told her that this was the fourth year that an incident like this has happened.
"I immediately broke down crying because I am a member of the Jewish community, and it honestly was horrific. It honestly makes me feel unsafe to go to school and I know that a lot of other people feel that way too. It targeted multiple groups, multiple minorities, not just one," Senior Hannah Cukierman told local Fox 7.
But it was the Goyim Defense League's banner that had antisemitism watchdogs more concerned. The Anti Defamation League's web site describes the GDL as "a loose network of individuals connected by their virulent antisemitism."
"They are provocateurs, they are looking for attention, they're looking for social media spikes," ADL Austin Regional Director Renee Lafair told CBS Austin. Lafair described the group as not local to Austin and said there had been warnings that they were planning something.
"Our concern is if over time this becomes mainstream and accepted, then things get more and more serious, so our job is to try and keep things as far to the fringe as possible," Lafair said.
In 2018, the Goyim Defense League duped Hall of Fame football star Brett Favre into recording a video that appeared to endorse the neo-Nazi group. After learning the true nature of the video and that it was going viral on white supremacists internet forums, Favre's representatives had the video removed and the quarterback apologized for not being more careful.
In a letter to the Jewish community, the JCC said it didn't believe the two incidents were related.
Do You Love Israel? Make a Donation to Show Your Support!
Donate to vital charities that protect Israelis and help inspire millions around the world to support Israel too!
Now more than ever, Israel needs your help to fight – and win – the battle of public opinion.
Anti-Israel bias and boycotts are out of control. Israel's enemies effectively use social media to incite brutal terror against innocent Israeli civilians. Please help us fight back!
The post 'Vax the Jews' Banner Rattles Austin Jewish Community first appeared on United with Israel.
United with Israel