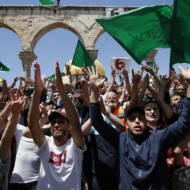 Shin Bet Cracks Hamas Terror Cell in Jerusalem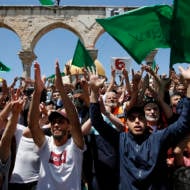 The cell was led in Jerusalem in recent years by senior Hamas official Khaled Sabah and funded by senior Hamas figures in Turkey.
By TPS
A Hamas terror cell operating in Jerusalem with support coming from Turkey was recently exposed and captured by Israel's security forces, the Shin Bet security service revealed over the weekend.
The cell was led in Jerusalem in recent years by senior Hamas official Khaled Sabah and funded by senior Hamas figures in Turkey. As part of his role as head of finance for Hamas in Jerusalem, Sabah was asked to assist in transferring Hamas funds from Turkey, bringing them into Jerusalem, and distributing them to Hamas operatives and their families in accordance with Hamas' needs.
An investigation led to the arrest of four suspects who are facing charges of offenses of membership in a terrorist organization, providing a service to a terrorist organization, tax offenses and money laundering, and other offenses.
Last month, three members of the Sabah family, residents of Tzur Baher in eastern Jerusalem, were arrested on suspicion of offenses related to the terrorist organization immediately upon their return to Israel from Turkey.
The suspects, Khaled Sabah and his two sons Munib and Musab Sabah, were transferred for questioning, in which it emerged that as part of their activities at the Janat Zakka Al-Quds Association, which has offices on the Temple Mount, the association served as a platform for transferring funds for supporting families of Hamas terrorists and terror activities while posing as an orphans aid organization.
Another suspect, aged 43 from Beit Hanina, was arrested.
A significant amount of property was seized, including cash in the amount of half a million Shekels, vehicles, and assets. Accounts were frozen. Many documents were seized.
The investigation revealed that some of the suspects had carried out shooting training outside Israel.
Khaled Sabah was appointed head of the Jerusalem cell during a visit to Turkey in 2019, where he met with Khaled Atun and Musa Akari, senior Hamas figures released in the Shalit deal. During the subsequent meetings, he was directed to promote activities that would involve recruiting new activists to the organization, raising funds, and most recently, discussing future activities planned for the Muslim month of Ramadan, including extensive confrontations with Israeli security forces.
"Senior Hamas figures outside Israel are constantly working to recruit activists in Judea and Samaria and Jerusalem for the purpose of promoting terrorist activities. The Israel Police and the Security Service will continue to work together with other elements to thwart Hamas' recruitment and intensification efforts within Jerusalem, while locating and addressing all those who express a willingness to assist in these efforts – in order to increase the security of the country's residents and prevent harm to its citizens," they stated.
Do You Love Israel? Make a Donation to Show Your Support!
Donate to vital charities that protect Israelis and help inspire millions around the world to support Israel too!
Now more than ever, Israel needs your help to fight – and win – the battle of public opinion.
Anti-Israel bias and boycotts are out of control. Israel's enemies effectively use social media to incite brutal terror against innocent Israeli civilians. Please help us fight back!
The post Shin Bet Cracks Hamas Terror Cell in Jerusalem first appeared on United with Israel.
United with Israel