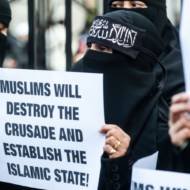 Report: Almost Half of UK Muslims Embrace Anti-Semitic Conspiracies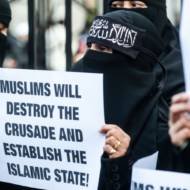 Poll by British think-tank shows 44 percent of British Muslims harbor anti-Semitic conspiracy theories.
By Yakir Benzion, United With Israel
A poll conducted for a British pro-democracy think tank showed that almost half of UK Muslims believe in anti-Semitic conspiracy theories.
The report was produced by Dr. Rakib Ehsan of the Henry Jackson Society (HJS) in London, showing among other things that 44 percent of British Muslims believed British Jews were more loyal to Israel than to the UK.
Another disturbing finding was that British Muslims who are university-educated are more likely to agree with the view that British Jews are more loyal to Israel, along with holding the broader belief that "Jews have too much global control."
"There is no room for political correctness and social tiptoeing when it comes to tackling the scourge of Muslim anti-Semitism in Britain," said Ehsan who was born and raised in Britain to a family originating in Bangladesh and India.
The HJS felt it had to research the subject due to a resurgence of anti-Semitism in England that "is at the forefront of our politics."
"We are presented with the depressing reality that Britain – once a safe haven for those fleeing the horrors of Nazism in continental Europe – has a serious anti-Semitism problem," the report said.
The UK-based organization describes itself as "a think tank and policy-shaping force that fights for the principles and alliances which keep societies free."
It is named after the late U.S. Senator Henry M. "Scoop" Jackson of the Democratic Party who strongly supported civil rights while also maintaining a strong opposition to totalitarianism and communism. The group's goals are bi-partisan to work "across borders and party lines to combat extremism, advance democracy and real human rights – and make a stand in an increasingly uncertain world."
Following the devastating explosion in Beirut that officials and experts admit was caused the negligent storage of ammonium nitrate, Ehsan noticed that some Muslims rushed to blame the tragedy on the Jews.
"The worrying thing after the blast in Beirut is the speed at which radical Islamist ideologues have peddled anti-Semitic conspiracy theories over the incident," Ehsan tweeted. "Any crisis or major incident will be swiftly integrated into their existing anti-Jewish conspiratorial frameworks."
Ehasan said his study "suggests that tight-knit, predominantly Muslim social circles in Britain potentially act as ideological echo chambers where both anti-Semitic beliefs and support for autocratic majority-Muslim countries are constantly reinforced without being challenged."
HELP ISRAELIS BATTLE CORONA!
Donate to the Corona Emergency Relief Fund. Coronavirus has taken a huge toll on the people of Israel. The poor, elderly and ill are most vulnerable.

Israeli soldiers, security officers and medical care providers operate under great danger and risk to life.

Over 1 million Israelis are out of work. Many cannot make ends meet. We provide financial aid, food, medical supplies and more. Funds are distributed where needed most. The time to act is now!

United with Israel