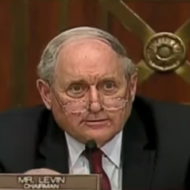 'Passionate Advocate for Israel-US Alliance' Mourned by Jewish World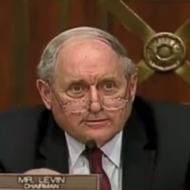 Tributes pour in for Carl Levin, former Michigan senator and 'staunch supporter' of Israel, dead at 87.
By Algemeiner Staff
US Jewish organizations joined the flood of tributes on Friday to the legendary Michigan Democratic Senator Carl Levin, following his death at the age of 87.
A lawyer by profession and a one-time taxi driver, the Michigan-native Levin served in the US Senate from 1979 until 2015. At the time of his retirement, Levin was the fourth longest-serving incumbent in the Senate.
As a one-time chair and long-serving member of the House Armed Services Committee, Levin took an active interest in arms control and the elimination of weapons of mass destruction. In 2014, Levin was recognized by the Jewish Community Center Association of North America with the Frank L. Weil Jewish Military Award for legislation that has benefitted Jews and other minorities serving in the military.
In a fulsome tribute to the former senator, the Jewish Community Relations Council of Metro Detroit praised him as the "quintessential mensch."
"Senator Levin will always be the pride of Detroit's Jewish Community," the Council stated, noting as well that he was a "staunch supporter of Israel."
In an address to the America Israel Public Affairs Council (AIPAC) at the lobbying group's 2012 annual meeting in Washington, DC, Levin stressed that the US was committed to retaining Israel's "qualitative military edge" in the Middle East.
In the same speech, Levin condemned the Iranian regime's nuclear program, warning that Tehran's "missiles will not stop Israel or us from doing what we have to do to stop them from succeeding."
In a statement released on Friday, AIPAC said it "mourns the passing of Senator Carl Levin who was a passionate advocate for the US-Israel alliance."
The statement continued: "As Chairman of the Armed Services Committee, he worked diligently to ensure that Israel had the resources to defend itself. We extend our heartfelt condolences to his family."
In a separate statement, the American Jewish Committee (AJC) said that it was "saddened to learn of the passing of our dear friend Senator Carl Levin, a champion of democratic values and American global leadership, and a strong supporter of America's defense and the defense of our allies. May his memory be a blessing."
Among the thousands of tributes to Levin on Friday was one from Senate Majority Leader Chuck Schumer (D-NY), who lauded him as "Mr. Integrity."
"He never forgot where he came from or who he was fighting for," Schumer said on Twitter. "Whenever the interests of the assembly line employee, shift worker, or service member were at stake, Carl was there. The country will miss this remarkable public servant."
Former Secretary of State Hillary Clinton described Levin as a "good man who tirelessly stood up for regular people in the face of powerful interests. There is no better legacy for a public servant."
Michigan Congresswoman Elissa Slotkin meanwhile reflected that Levin had "led an amazing life, and set the gold standard for hard-working, decent Midwestern leadership."
She continued: "May his memory be a blessing. And may we all seek to live up to his example."
Do You Love Israel? Make a Donation to Show Your Support!
Donate to vital charities that protect Israelis and help inspire millions around the world to support Israel too!
Now more than ever, Israel needs your help to fight – and win – the battle of public opinion.
Anti-Israel bias and boycotts are out of control. Israel's enemies effectively use social media to incite brutal terror against innocent Israeli civilians. Please help us fight back!
The post 'Passionate Advocate for Israel-US Alliance' Mourned by Jewish World first appeared on United with Israel.
United with Israel