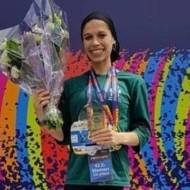 Orthodox 'Marathon Mom' Pleads with Olympics Not to Hold Race on Sabbath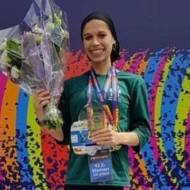 An Orthodox Jewish runner aiming for Tokyo pleads with the Olympic Committee not to hold the marathon on Shabbat.
By Algemeiner Staff
An Orthodox Jewish woman who hopes to represent Israel at the Olympic Games in Tokyo next year is trying to persuade the International Olympic Association not to hold a key athletic event on Shabbat.
In an interview on Monday with the UK paper The Telegraph, New Jersey-born Bracha "Beatie" Deutsch — a champion marathon runner, mother of five children and resident of Jerusalem — explained that there were two conditions on her participation at the Games, only one of which was within her control.
As a marathon runner, Deutsch is within touching distance of the qualification standard for Tokyo of 2 hr 29 min 30 sec, having clocked in at 2 hr 32 min in January's marathon in Jerusalem. But a bigger hurdle is the decision of Games' organizers to hold the marathon on a Saturday.
"When I set myself the goal of representing Israel in the Olympics, the marathon was on a Sunday," the 28-year-old Deutsch told the newspaper. "They then moved all the outdoor distance events to Sapporo and condensed them into four days. The women's marathon is on Shabbat."
Deutsch's attempts to overturn the International Olympic Committee's decision have fallen flat, despite hoping there might be room for negotiation now the Games have been postponed until 2021.
"I wrote to them to see if there was a possibility of switching the marathon with the race walk [on Friday]," she said. "So far, they've not been very receptive."
Deutsch, who immigated to Israel from the US at the age of 19, said that the Olympic authorities needed to show more cultural sensitivity.
"I don't think the world needs to bend over backwards for me because I have my religious values, but the Olympics is meant to be a unifying event for people from all types of backgrounds ‐‐ it's about diversity," she remarked. "In a time when everyone is trying to be more accepting and accommodating of gender, race ‐‐ everything ‐‐ I feel like they should be more tolerant."
An International Olympic Committee spokesperson told The Telegraph: "While we put athlete considerations first in all decisions, particularly health and welfare, we are unfortunately not able to adjust the schedule to the particular situation of each individual athlete."
HELP ISRAELIS BATTLE CORONA!
Donate to the Corona Emergency Relief Fund. Coronavirus has taken a huge toll on the people of Israel. The poor, elderly and ill are most vulnerable.

Israeli soldiers, security officers and medical care providers operate under great danger and risk to life.

Over 1 million Israelis are out of work. Many cannot make ends meet. We provide financial aid, food, medical supplies and more. Funds are distributed where needed most. The time to act is now!

United with Israel