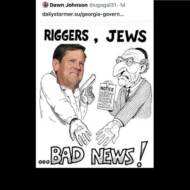 New Hampshire Lawmaker Blasted for Neo-Nazi Post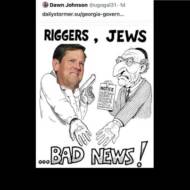 Dawn Johnson posted on Facebook and Twitter content from the notorious neo-Nazi website The Daily Stormer, including an anti-Semitic image.
By Yakir Benzion, United With Israel
Pressure is mounting for newly elected New Hampshire state representative Dawn Johnson to resign after the Republican politician shared a racist and anti-Semitic meme on her social media about "riggers and Jews" that appeared to reference conspiracy theories about the November presidential election.
Johnson represents the New Hampshire city of Laconia in the state legislature and serves on the Laconia School Board.
Last week, she posted on her Facebook and Twitter accounts content from the notorious neo-Nazi website, The Daily Stormer, including an altered racist and anti-Semitic image.
On Monday, some two dozen demonstrators in downtown Laconia called for Johnson to resign, the Union Leader reported.
Democratic New Hampshire legislator Debra Altschiller also called on Johnson to step down.
"The NH House of Reps have been sworn in only 11 days & I am vociferously calling for new member Dawn Johnson of Laconia to resign immediately. Her anti-Semitism has NO place in NH state government, none," Altschiller tweeted.
Johnson refused to answer several calls from the press. In a post on her Facebook account she apologized for sharing an article from the Neo-Nazi website, saying she was unaware of the source of the article. Her Twitter account was removed.
Johnson's Facebook page also features coronavirus pandemic conspiracy theories, including a link to a website that claims face masks cause more COVID-19 infections than they prevent, and a fake news story headlined "Head of Pfizer Research: Covid Vaccine is Female Sterilization."
Keep Israeli Soldiers Warm this Winter – Send Gifts for Chanukah!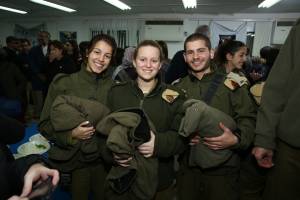 This Chanukah, we are honored to thank the young soldiers of the IDF who risk their lives to defend the people of Israel.
Join us in sending winter care packages and personal notes of support to Israeli soldiers who are out in the cold all day.
Warm up a soldier's heart with essential winter wear including fleece jackets. Keep an entire unit warm by ordering 10 packages…
THE SOLDIERS REALLY APPRECIATE YOUR LOVE AND CONCERN!
Click Here to Send Your Chanukah Gift and Personal Note to Israeli Soldiers
The post New Hampshire Lawmaker Blasted for Neo-Nazi Post first appeared on United with Israel.

United with Israel