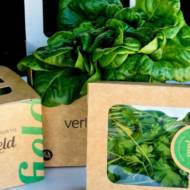 Israeli Ingenuity: A Farm in the Supermarket Parking Lot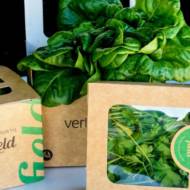 Four Israeli supermarkets sell their customers pesticide-free greens and herbs grown inside an indoor vertical farm set up in a trailer just outside their doors.
By Abigail Klein Leichman, ISRAEL21c
When you buy supermarket veggies, you don't know how far they traveled or when they left the farm. And that matters because picked produce loses nutritional potency rapidly.
Now, shoppers in four Israeli supermarkets can buy pesticide-free greens and herbs harvested from an indoor farm right on the premises.
This unusual setup comes courtesy of Israeli agri-tech business Vertical Field and the Rami Levy supermarket chain.
"Vertical Field has been operating in partnership with Rami Levy for approximately a year," says Noa Winston, marketing director for Vertical Field.
"Our first Vertical Field farm at Rami Levy was launched in Modi'in. Now we have four farms at Rami Levy branches whose produce is already sold inside the supermarket," Winston tells ISRAEL21c.
"Additionally, we have a farm at the Tel Aviv Port in collaboration with the city of Tel Aviv. We have plans to significantly expand our operations with Rami Levy and to open more farms over the course of 2021."
The indoor farms raise leafy greens and herbs such as kale, lettuce, basil, cilantro, dill, parsley and peppermint. Bok choy and spinach are now being planted.
The space-saving vertical containers grow the plants in soil under LED lighting from BioLed EcoLight Systems based at Kibbutz Tzuba. (BioLed also provides the lighting for Energy Boxes that Innovation: Africa provides to off-grid African schools and health centers.)
The Ra'anana-based company says that indoor vertical farming uses 90 percent less water than traditional field farming and saves as much as 20 days' time from seeding to harvest in a typical growth cycle. The system is weather- and pest-resistant.
Vertical Field has two installations in New York State – at a supermarket and a restaurant – and has ambitious expansion plans.
"Our goal is to penetrate the global market," says Winston. "We have begun that process starting with the United States, where we have two farms, and we plan to continue to expand there. We are also currently developing several promising projects both in the field of vertical urban farms as well as vertical landscaping that will be launched in the USA, in Europe, and other regions."
Keep Israeli Soldiers Warm this Winter – Send Gifts for Chanukah!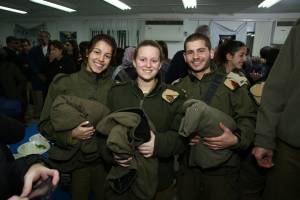 This Chanukah, we are honored to thank the young soldiers of the IDF who risk their lives to defend the people of Israel.
Join us in sending winter care packages and personal notes of support to Israeli soldiers who are out in the cold all day.
Warm up a soldier's heart with essential winter wear including fleece jackets. Keep an entire unit warm by ordering 10 packages…
THE SOLDIERS REALLY APPRECIATE YOUR LOVE AND CONCERN!
Click Here to Send Your Chanukah Gift and Personal Note to Israeli Soldiers
The post Israeli Ingenuity: A Farm in the Supermarket Parking Lot first appeared on United with Israel.

United with Israel