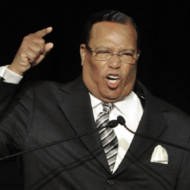 Louis Farrakhan's Islamic Hate Group Booted from YouTube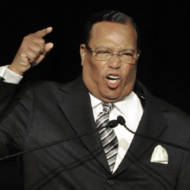 Earlier this year, United With Israel readers asked the social media platform to stop spreading this anti-Semitic group's hateful propaganda.

By Yakir Benzion, United With Israel
YouTube has taken down the channel belonging to the Nation of Islam (NOI), the movement headed by notorious anti-Semite Louis Farrakhan, the organization StopAntiSemitism.org reported Monday.
According to YouTube, the channel was removed on Friday for violating the company's policies against hate speech, apparently referring to NOI's repeated anti-Semitic claims that "members of a protected group are part of an evil conspiracy theory," the report said.
"We have strict policies prohibiting hate speech on YouTube, and terminate any channel that repeatedly or egregiously violates those policies," a YouTube spokesperson said.
"After updating our guidelines last year to better address content that spreads hateful conspiracy theories, we saw a 5x spike in video removals and have terminated over 25,000 channels for violating our hate speech policies," the spokesperson noted.
An attempt Tuesday to load the Nation of Islam YouTube channel got the error message "This page isn't available."
In a July 4th speech apparently posted to NOI's YouTube channel, Farrakhan said that "Jews are enjoined by their religion to poison prophets" and that Jews had "broken their covenant relationship with God." He referred to Jews collectively as "Satan" and the "enemy of God," and claimed that white people "are born with lie [sic] and murder in their nature."
Earlier this year, United With Israel and another website, combatantisemitism.org, ran an online campaign "Get Louis Farrakhan's Anti-Semitic YouTube Video Removed." That campaign asked people to go to NOI offensive video and file a complaint with YouTube, and also send a letter to Matt Halprin, YouTube's Vice-President of Global Trust and Safety to "respectfully ask Youtube to enforce its prohibition of content that promotes or condones violence or incites hatred."
HELP ISRAELIS BATTLE CORONA!
Donate to the Corona Emergency Relief Fund. Coronavirus has taken a huge toll on the people of Israel. The poor, elderly and ill are most vulnerable.

Israeli soldiers, security officers and medical care providers operate under great danger and risk to life.

Over 1 million Israelis are out of work. Many cannot make ends meet. We provide financial aid, food, medical supplies and more. Funds are distributed where needed most. The time to act is now!

United with Israel