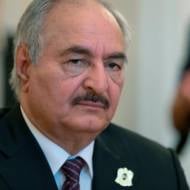 Libyan Warlord Reaches Out for Israeli Support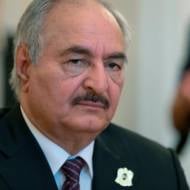 Haftar reportedly offered to normalize relations with Israel in exchange for diplomatic and military support, should he win the upcoming election.
By Pesach Benson, United With Israel
A Libyan warlord vying to rule the North African country has reportedly offered to normalize relations with Israel in exchange for diplomatic and military support, Haaretz reported on Sunday.
According to Haaretz, Gen. Khalifa Haftar dispatched his son and right-hand man, Saddam, to Israel near the end of October. A plane belonging to Haftar flew from the United Arab Emirates landed at Ben Gurion International Airport and spent 90 minutes on the ground before continuing on to Libya.
Israel and Libya do not have diplomatic relations.
Haftar made a similar overture in 2019.
It's not clear with whom Haftar met. Haaretz reported that the general has in the past had contacts with the Mossad's Tevel division, which oversees clandestine contacts with officials in countries that have no diplomatic ties to Israel.
Libya's civil war has left the country divided by two rival governments. The Government of National Unity, which is based in Tripoli, controls about one-third of the country and is recognized by the UN, US, EU, Turkey and Qatar as the legitimate provisional government. The Libyan National Army, led by Gen. Haftar, controls two-thirds of the country. The LNA is backed by Egypt, Jordan, the UAE, France and Russia, plus many Libyan legislators.
Libya is scheduled to hold elections on Dec. 24 ,which hopefully will resolve the civil war. The election pits Haftar against Saif-al-Islam Gadaffi, the son of Libyan dictator Col. Muammar Gadaffi, who was killed in a 2011 uprising.
Israel Hayom reported in October that Haftar and Gadaffi are being advised by the same Israeli consulting firm. According to the daily, the firm, whose name was not disclosed, registered a new company in the UAE "so that it would have two separate entities running the campaigns."
According to Haaretz, Haftar offered to normalize relations with Israel in exchange for diplomatic and military support, should he win the election. Israel may pursue the agreement for a number of strategic reasons.
Normalized relations with Libya would expand the circle of peace that Israel has forged with other Arab countries. Israeli businesses would benefit from helping Libya rebuild after a civil war.
Haftar would also put a check on expanding Turkish (and possibly Iranian) expanding influence in the Mediterranean and North Africa. In 2019, Turkey and Libya's provisional government signed an agreement delineating their maritime borders that Israel, Greece and Cyprus condemned as illegal.
The provisional government is also regarded as less willing or able to confront radical Islamists affiliated with Islamic State or the Muslim Brotherhood, who control scattered areas.
However, the 77-year-old general's health is said to be fragile and he has been giving increasing responsibility to his son, who is also an army officer.
Jews lived in Libya for thousands of years. Before World War II, the Jewish population was around 30,000. The Jewish community faced waves of antisemitic riots during Israel's founding and again after the Six-Day War. Most fled to Italy. Libya's last known Jew left the country in 2002.
Do You Love Israel? Make a Donation to Show Your Support!
Donate to vital charities that protect Israelis and help inspire millions around the world to support Israel too!
Now more than ever, Israel needs your help to fight – and win – the battle of public opinion.
Anti-Israel bias and boycotts are out of control. Israel's enemies effectively use social media to incite brutal terror against innocent Israeli civilians. Please help us fight back!
The post Libyan Warlord Reaches Out for Israeli Support first appeared on United with Israel.
United with Israel