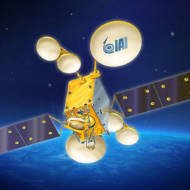 Israel's Revolutionary Satellite: A 'Smartphone in Space'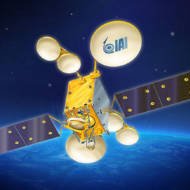 Built by Israel Aerospace Industries, the Dror 1 will be the most advanced communication satellite made in Israel.
By Yaakov Lappin, JNS
Work is on track to develop and build Israel's next-generation communications satellite, ensuring that Israel will retain its independence in the critical domain of space-based communications, executives from Israel Aerospace Industries (IAI), which is building the satellite, told JNS.
IAI announced on Jan. 3 that it had signed an agreement with the Israeli government for the development and construction of Israel's next communications satellite, dubbed Dror 1 (Hebrew for "freedom").
"The Dror 1 is intended to meet the satellite communication needs of Israel for the next fifteen years," IAI said in a statement. The satellite "is comprised primarily of local Israeli technologies developed at IAI, including an advanced digital communication payload."
The new satellite will be developed by IAI's Systems, Missile and Space Group, which is also dedicated to developing and building air-defense systems such as the Arrow 2 and 3 weapon system, as well as an array of military spy satellites.
The Dror 1 will be the most advanced communication satellite ever built in Israel.
IAI's Space Division has previously built two types of cutting-edge observation satellites used by Israel's defense establishment for intelligence-gathering. The first employs powerful cameras, and the second uses a form of radar to generate visual images that enable nighttime observations, as well as the ability to peer through cloud cover at areas of interest.
IAI launched the Ofek 16 spy satellite in July this year, which entered orbit as planned. After a number of weeks, IAI transferred control of Ofek 16 to the IDF Military Intelligence Directorate, which has reported high performance.
'A Fully Digital Satellite'
Shlomi Sudri, General Manager of IAI's Space Division, described the work currently underway in creating Israel's next communications satellite. While spy satellites orbit the Earth every 90 minutes at an altitude of 450 kilometers—enabling coverage of areas of interest—communications satellites are placed in orbit at 36,000 kilometers, where they remain fixed in set point in the sky and revolve together with the planet.
Israel's last attempt to put a communications satellite in space ended in an accidental explosion in 2016, when a SpaceX Falcon 9 rocket blew up, destroying the IAI-made Amos 6 satellite on board.
The Dror 1 will come with an array of Israeli-made components in the payload. "This is a fully digital satellite that can upload applications. It can broadcast data from one antenna and receive from another," said Sudri.
The four-ton satellite will take a number of years to complete, and Sudri said the project is on time, despite the coronavirus pandemic-related challenges. "The process of acquiring components is behind us," he said. "The satellite is at a very advanced stage. We hope to summarize the project and begin assembling the components next year."
IAI has been conducting research and development on various satellite components and sub-systems to ensure that "we didn't start from scratch when we got the order," he stated. The payload will include computers, communications and memory technology that is at the forefront of high-tech.
'Multi-year Strategic Program'
It is vital for Israel to have an independent, survivable communications satellite capability, said Sudri, a need that became even more visible in the pandemic era. "We must ensure that we have this ability," he said.
Additionally, cyber threats mean having an Israeli in-house communications satellite—one that Israeli engineers know how to defend—is a key national interest, as opposed to relying on outside suppliers in the event of a problem.
The satellite will provide a variety of communications services, including Internet data, voice and more. Since it is fully digital, the satellite can be upgraded in the future during its years of service.
IAI views the modern digital satellite much like a smartphone—a highly flexible device that can be used with many applications.
"It will have a long life. It'll act like a smartphone in space that will be in service for years, enabling us to upgrade its capabilities," said Sudri.
In September 2018, the Israeli government decided to retain full national independence in the field of space communications as a long-term strategy.
"This government decision stems from the understanding that the capability for communication independence is of critical national importance, as well as to enable the preservation of the knowledge and expertise that has been accumulated by Israel over the past years," IAI said in its statement.
"The state understood that this is something it wants," said Sudri. "We need a multi-year strategic program so that when we complete the project, the engineers don't stop working. The personnel we have are so unique that some of them only have equivalents in one or two other places in the world."
IAI's Space Division is also active in the field of nano- and micro-satellites, which are more affordable, and can conduct both communications and photographing missions.
One nano-satellite, BGUSAT, was launched in 2017 in cooperation with Ben-Gurion University of the Negev and is the size of a milk carton. Sudri noted that "it's still in orbit, taking photographs."
THE DREAM RAFFLE – Win a Luxury Jerusalem Home!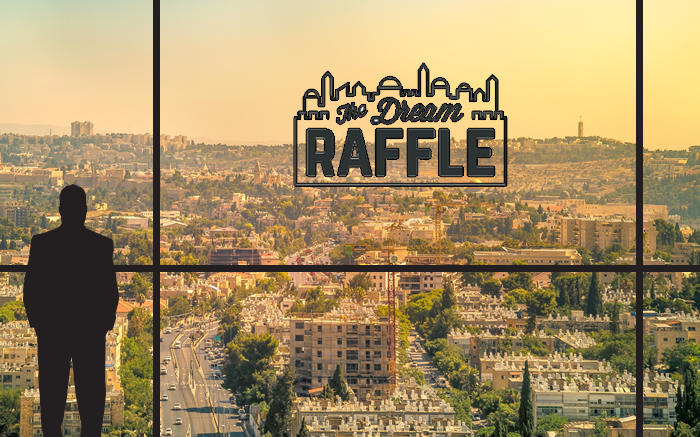 THE CITY. THE DREAM. THE CHANCE OF A LIFETIME!
Your brand new Million Dollar Jerusalem apartment with an awesome view of the Temple Mount is just a few clicks away.
The keys to a luxury Jerusalem apartment can be yours forever.
And at the same time support great causes like United with Israel!
The Dream Raffle may sound too good to be true… but it is real. Enter now before it's too late!
The post Israel's Revolutionary Satellite: A 'Smartphone in Space' first appeared on United with Israel.

United with Israel