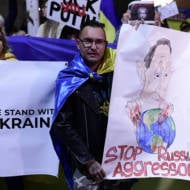 Israelis Rally in Tel Aviv: 'Putin is the New Hitler'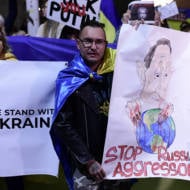 Protesters included many Israelis with Russian or Ukrainian roots.
By United with Israel Staff
Hundreds of Israelis demonstrated in support of Ukraine outside the Russian embassy in Tel Aviv on Thursday.
Waving Ukrainian flags, some protesters carried signs and shouted slogans, including "Putin is the new Hitler," "Putin is a murderer," and "Stop Putin, stop war," Israeli media reported.
"Honor to the heroes, honor to Ukraine," they chanted, according to Times of Israel.
Some – of Russian descent — burned their Russian passports.
Many of the protesters have Ukrainian roots as well, Channel 13 reported.
Four people were arrested for spraying graffiti on the embassy wall.
"The police will enable freedom of speech and freedom of protest but will not allow violations of the law and of the public order," the local police department said in a statement, according to the Times.
Passing drivers honked their horns and shouted their support.
Similar protests took place in Jerusalem and Haifa.
"The Russian attack on Ukraine is a serious violation of the international order," Foreign Minister Yair Lapid stated on Thursday.
"Israel condemns that attack and is ready and prepared to offer humanitarian assistance to Ukrainian citizens," he said.
Near the Russian consulate in Tel Aviv, #Russian citizens burn their passports in support of #Ukraine pic.twitter.com/IMNEDNGfic

— NEXTA (@nexta_tv) February 24, 2022
Do You Love Israel? Make a Donation to Show Your Support!
Donate to vital charities that protect Israelis and help inspire millions around the world to support Israel too!
Now more than ever, Israel needs your help to fight – and win – the battle of public opinion.
Anti-Israel bias and boycotts are out of control. Israel's enemies effectively use social media to incite brutal terror against innocent Israeli civilians. Please help us fight back!
The post Israelis Rally in Tel Aviv: 'Putin is the New Hitler' first appeared on United with Israel.
United with Israel