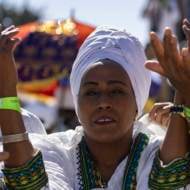 Israelis Fly to Ethiopia to Battle Humanitarian Crisis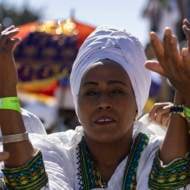 "Humanitarian aid has no color," said Ethiopian-born Israeli parliamentarian Gadi Yevarkan. "This is our duty as Israelis and as Jews."
By Abigail Klein Leichman, Israel21c
Israeli medical and parliamentary officials fly to Ethiopia to see how Israeli hospitals can help Ethiopian hospitals treat civil war victims.
The world has taken little notice of the civil war raging in Ethiopia for the last two years.
This greatly troubles Ethiopian-born Israeli parliamentarian Gadi Yevarkan. This week, he is leading a top-level Israeli medical factfinding mission to his native country.
"It is estimated that over half a million people have died in this war, millions have been displaced from their homes, and over 10 million people are on the verge of starvation (according to a UN report)," Yevarkan posted on Instagram.
"I, like every Israeli, proudly see the humanitarian efforts of healthcare workers and civil society organizations in the context of the humanitarian crisis in Ukraine and at the same time I am excited that finally, after a lengthy work process, an Israeli delegation … will convey to the world in general and the Ethiopian people in particular, a message of deep friendship between Israel and Ethiopia."
A couple of months ago, Yevarkan asked Alon Beer, director general of The Society for International Development's Israel branch (SID-Israel) to organize a roundtable meeting in the Knesset to raise awareness and discuss how Israel could help.
"It was clear that the medical field is the most urgent thing we should address," Beer tells ISRAEL21c.
"Although we thought no one will have interest in this with the Ukraine war going on, we had 80 participants including 12 members of Knesset and senior staff from several hospitals and from Tel Aviv University."
SID-Israel coordinated the delegation of officials from Clalit Health Services, various hospitals and three members of Knesset "to see how we can help alleviate suffering from the ongoing civil war."
Three members of the Israeli delegation that landed in Ethiopia on April 12, 2022, from left: Brigadier General Dr. Tarif Bader, chief medical officer of Kaplan Medical Center; Dr. Elhanan Bar-On, director of Sheba Medical Center's Israel Center for Humanitarian Emergency and Disaster Medicine; and Dr. Avinoam Pirogovsky, deputy director of Clalit Health Services Hospital Division. Photo courtesy of SID-Israel
The Israelis are meeting with hospital and regional health bureau officials in Gondar and with the Ethiopian Minister of Health and senior ministry representatives in Addis Ababa before returning to Israel on Friday in time for Passover.
"The idea is to try to create a program where Israeli hospitals will 'adopt' hospitals around the war zone in Ethiopia, to support them with training and knowhow and hopefully also with equipment," says Beer.
"Beilinson Hospital [in Petah Tikva] has already been doing this with a hospital in Ethiopia, and we want to duplicate that," he says.
"Humanitarian aid has no color," said Yevarkan. "This is our duty as Israelis and as Jews."
Send Passover Packages to Needy Israeli Soldiers – Bring Them Joy!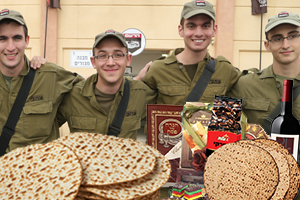 We are honored to thank the young men and women of the IDF who risk their lives every day to protect the freedom of the citizens of Israel.
Join us in sending Passover food packages (and personal notes) to Israeli soldiers and their families

Many soldiers spend the Passover holiday with needy families back home. The soldiers greatly appreciate your love and concern. Bring them Passover joy!
CLICK HERE TO SEND YOUR PACKAGE AND NOTE TO ISRAELI SOLDIERS!
The post Israelis Fly to Ethiopia to Battle Humanitarian Crisis first appeared on United with Israel.
United with Israel