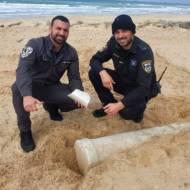 Israeli Police Discover 1,500-Year-Old Marble Treasure on the Beach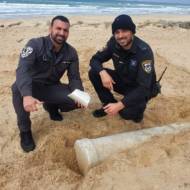 Archeological find thought to be remains of a Byzantine church compound.
By TPS
Policemen on patrol on the coastal city of Ashdod came across an impressive, 1,500-year-old marble pillar on the beach north of Ashdod.
The Israel Antiquities Authority believes it to be from the remains of a Byzantine church that once stood on the site.
Patrolmen Itai Dabush and Sagiv Ben Gigi were on a routine patrol in the dunes of Ashdod last week when they identified an item sticking out of the ground. Archeological discoveries are frequently made at construction sites or by families on hikes.
The officers informed the municipal hotline, which alerted IAA inspectors.
Archeological excavations have been conducted in Ashdod since 2013.
In August 2017, rich finds from a church compound, dating to the Byzantine period, were discovered in the northern part of the site. One of the fascinating finds in the excavation was a series of tombs bearing memorial inscriptions for deacons found in the north citadel of the church.
A tomb of a female Christian martyr was also discovered in the central apse of the church.
The Ashdod-Yam site, located in the southern coastal area of ​​the city of Ashdod, was one of the most important coastal cities in the Byzantine period. The city, called in Byzantine sources "Azotus Paralus," covered a large area, and the famous map of Madaba from Jordan depicts public buildings in the site, including churches.
According to IAA archaeologist Avi Levy, "it is not inconceivable that the column that was exposed belonged to an ancient church depicted on the map of Madaba."
Eli Escozido, director of the IAA, said that "the column appears to have been uncovered following recent rains in the area. Any such discovery adds another piece to understanding to the cultural puzzle of Israel in ancient times."
Do You Love Israel? Make a Donation to Show Your Support!
Donate to vital charities that protect Israelis and help inspire millions around the world to support Israel too!
Now more than ever, Israel needs your help to fight – and win – the battle of public opinion.
Anti-Israel bias and boycotts are out of control. Israel's enemies effectively use social media to incite brutal terror against innocent Israeli civilians. Please help us fight back!
The post Israeli Police Discover 1,500-Year-Old Marble Treasure on the Beach first appeared on United with Israel.
United with Israel