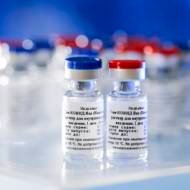 Israeli Hospital Orders 1.5 Million Doses of Russian Corona Vaccine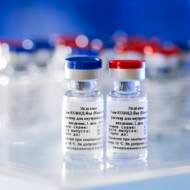 Director of Jerusalem's Hadassah Medical Center says Moscow colleagues are confident the coronavirus vaccine is safe.
By Yakir Benzion, United With Israel
The head of Jerusalem's largest hospital says he is taking no chances and is asking Israel's government to approve the 1.5 million doses of the coronavirus vaccine he ordered from Russia.
Professor Ze'ev Rotstein told Ynet the hospital ordered the unproven vaccine to be on the safe side and will only administer shots to the public when the human trials are complete and Israel's Health Ministry has given its approval.
Rotstein said it would be a tragic mistake to ignore the Russian vaccine, which, he says, has so far proven to be safe, according to colleagues in Moscow.
"If we turn down the Russian vaccine before the regulatory process is complete and other countries provide it to their populations, we will have no one to blame but ourselves," Rotstein told Ynet.
"We have respect for the Russian vaccine, and our Moscow branch has been involved in its human trial," Rotstein he said, "We are hearing very good things."
It isn't known yet, however, how effective the vaccine is in preventing people from contracting the coronavirus.
"Many other vaccine trials have been suspended for safety concerns, but not the Russian one," Rostein said, admitting that Russia's regulatory process is much less strict than in Western countries.
"This is a battle for billions of dollars all over the world," he Rotstein said. "Every country wants to have a working vaccine for its people while the pandemic continues to claim many lives, so no potential vaccine should be discounted. But if this vaccine proves safe and effective at the end of the trial, we must certainly consider it."
The Russian vaccine is only one part of the multi-pronged inoculation policy Israel is pursuing.
The government already placed an order with the U.S.-based pharmaceutical company Moderna, and the Mossad recently brought in 25,000 doses of a new Chinese vaccine for testing in Israel.
More important, Israel this week began human clinical tests of a home-grown Israeli vaccine that showed tremendous success in lab tests over the summer. The first Israeli recipients are showing no adverse side effects. However, those tests, like others being conducted around the world, will take many more months before it is determined if the vaccine works or not.
"We should reserve as many vaccine options as possible," Rotstein said.
HELP ISRAELIS BATTLE CORONA!
Donate to the Corona Emergency Relief Fund. Coronavirus has taken a huge toll on the people of Israel. The poor, elderly and ill are most vulnerable.

Israeli soldiers, security officers and medical care providers operate under great danger and risk to life.

Over 1 million Israelis are out of work. Many cannot make ends meet. We provide financial aid, food, medical supplies and more. Funds are distributed where needed most. The time to act is now!
The post Israeli Hospital Orders 1.5 Million Doses of Russian Corona Vaccine first appeared on United with Israel.

United with Israel