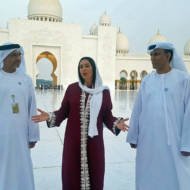 Israel and Emirates Hit the Ground Running with Corona Research, New Phone Lines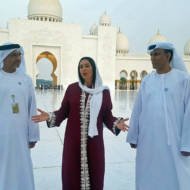 Phone systems between the countries connected on the weekend and tech companies signed a deal for COVID-19 cooperation.
By Yakir Benzion, United With Israel
Although the peace treaty between the two countries has not yet been signed, Israel and the United Arab Emirates have wasted no time launching joint projects.
Already on Sunday, direct telephone service began working between the Jewish State and its new Gulf partner. The Associated Press reported that journalists in at its bureaus in Jerusalem and Dubai were able to call each other from both landline and cellular phones registered to Israel's country code +972.
Prior to Sunday, people in the UAE who tried to call Israeli directly encountered a "this call cannot be connected" message.
To mark the occasion, UAE Foreign Minister Sheikh Abdullah bin Zayed Al Nahyan telephoned his Israeli counterpart Gabi Ashkenazi, Gulf officials said.
"Many economic opportunities will open now, and these trust-building steps are an important step toward advancing states' interests," Israeli Communications Minister Yoaz Handel said.
Those direct phone calls will be useful for Israeli and UAE companies who want to do business, including two companies that have already closed a deal for cooperation in COVID-19 research.
In Abu Dhabi, the Herzliya-based Israeli technology company Tera Group signed a cooperation agreement with the UAE-based APEX National Investment group. They will collaborate on research and development related to COVID-19, including a device that will make the coronavirus testing process faster, easier, and more accurate.
The Emerati news agency WAM reported that APEX chairman Khalifa Yousef Khoury said the deal "is considered the first business to inaugurate trade, economy and effective partnerships between the Emirati and Israeli business sectors, for the benefit of serving humanity by strengthening research and studies on the Novel Coronavirus."
Last week, US President Donald Trump said the peace agreement leading to a full normalization of diplomatic relations between the two states is expected to be signed at the White House in the next few weeks. The UAE will become the third Arab country to make peace with Israel, and others are expected to follow.
HELP ISRAELIS BATTLE CORONA!
Donate to the Corona Emergency Relief Fund. Coronavirus has taken a huge toll on the people of Israel. The poor, elderly and ill are most vulnerable.

Israeli soldiers, security officers and medical care providers operate under great danger and risk to life.

Over 1 million Israelis are out of work. Many cannot make ends meet. We provide financial aid, food, medical supplies and more. Funds are distributed where needed most. The time to act is now!

United with Israel