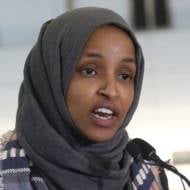 Ilhan Omar's New Outrage: 'Jewish Democrats Aren't Partners in Justice'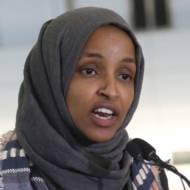 With a history of anti-Semitic comments, critics ask if "vile bigot" will ever be censured by her own party.
By United With Israel Staff
Democratic Congresswoman Ilhan Omar doubled down on controversial comments made about Jews, saying her Democratic colleagues on Capitol Hill "aren't partners in justice."
Omar (D-MIN) appeared on CNN on Tuesday, when Jake Tapper asked about her history of anti-Semitic tweets.
"In 2019, you said lawmakers support Israel because it's 'all about the Benjamins,' which implies that politicians only support Israel because of money. There was a tweet. from 2012 when you said Israel had hypnotized the world," said Tapper. "Do you understand why some of your fellow House Democrats, especially Jews, find that language anti-Semitic?"
Omar initially responded that she "welcomed any time my colleagues have asked to have a conversation to learn from them, for them to learn from me."
But then she added, "I think it's really important for these [House] members to realize that they haven't been partners in justice. They haven't been equally engaging in seeking justice around the world and I think I will continue to do that. It is important for me as someone who knows what it feels like to experience injustice in ways that many of my colleagues don't – to be a voice in finding accountability."
Jews were quick denounce Omar's comments.
StopAntiSemitism.org tweeted "Shocking – Ilhan Omar refusing to take ANY accountability for her obscene antisemitism. Instead she has the audacity to blame Jewish members of Congress. When will this vile bigot finally be censured and properly reprimanded by her party?"
The Republican Jewish Coalition challenged Democrats to censure Omar, tweeting, "Will @USJewishDems join us in calling out @Ilhan Omar for saying Jewish members of Congress aren't 'partners in justice?'"
Earlier in June, the Somali-born immigrant triggered an uproar for comparing Israel and U.S. to Hamas and Taliban and dismissed the criticism over it as as "Islamaphobic tropes."
Do You Love Israel? Make a Donation to Show Your Support!
Donate to vital charities that protect Israelis and help inspire millions around the world to support Israel too!
Now more than ever, Israel needs your help to fight – and win – the battle of public opinion.
Anti-Israel bias and boycotts are out of control. Israel's enemies effectively use social media to incite brutal terror against innocent Israeli civilians. Please help us fight back!
The post Ilhan Omar's New Outrage: 'Jewish Democrats Aren't Partners in Justice' first appeared on United with Israel.
United with Israel