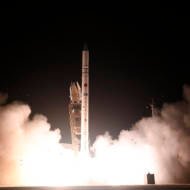 IDF Takes the Reins of Israeli Spy Satellite that Watches Iran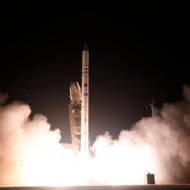 Israel's Ministry of Defense transferred operation of the Ofek 16 satellite to the IDF's Intelligence Directorate.
By United with Israel Staff
Three months after Israel successfully launched the Ofek 16 satellite into space, Israel's Space Administration officially transferred operational control of the cutting-edge spacecraft to the nation's military.
Ofek 16 helps Israel keep an eye on archenemy Iran, among other regional threats.
Just one week after the spy satellite's launch, the Ministry of Defense turned on its super-sensitive observation camera and the first pictures were downloaded.
Israel is known as a world leader in advanced optics and the Ofek 16 is equipped with a super high-quality camera developed and manufactured in Israel by Elbit Systems. The in-orbit shakedown testing was finished recently, after which control of the operational satellite was transferred to the IDF's Intelligence Corps.
"The significant advantage of Ofek is a route that allows greater repetition over Iran … that allows a high-frequency of photography, several times a day, which commercial satellites almost do not allow," tweeted Dan Harel, an Israeli expert in remote sensing.
Ofek 16 gives the IDF unprecedented access to data about Iran, whose political and military leaders have repeated for years that their goal is the "total annihilation of Israel."
Not only does the satellite give Israel's military intelligence agents high resolution photos of Iranian sites including those associated with its illegal military nuclear weapons program, it also provides detailed views of the activities of terror groups supported by Iran around the region in Syria, Lebanon, and Iraq.
On Sunday, officials held a small ceremony handing the "keys" of the satellite to the IDF's 9900 Intelligence Unit.
HELP ISRAELIS BATTLE CORONA!
Donate to the Corona Emergency Relief Fund. Coronavirus has taken a huge toll on the people of Israel. The poor, elderly and ill are most vulnerable.

Israeli soldiers, security officers and medical care providers operate under great danger and risk to life.

Over 1 million Israelis are out of work. Many cannot make ends meet. We provide financial aid, food, medical supplies and more. Funds are distributed where needed most. The time to act is now!
CLICK HERE TO HELP THE PEOPLE OF ISRAEL TODAY!

United with Israel