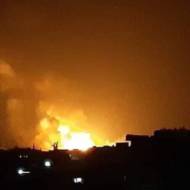 Drone Strikes in Syria Kill 15 at Iranian Outposts and Shi'ite Positions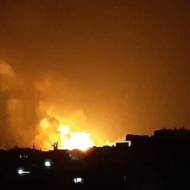 Unidentified aircraft carried out a series of strikes on bases and outposts belonging to the Iranian Revolutionary Guards Corps and Shi'ite groups near the Syria-Iraq border.
By Lilach Shoval and Daniel Siryoti, Israel Hayom via JNS
A drone strike near Bukamal in eastern Syria on Monday killed 15 members of pro-Iranian militias, the Syrian Observatory for Human Rights reported on Tuesday morning.
The observatory quoted what it called "reliable" sources, who said that unidentified aircraft had carried out a series of strikes on bases and outposts belonging to the Iranian Revolutionary Guards Corps and Shi'ite militias near the Syria-Iraq border.
According to reports, the strikes targeted the militias' weapons stockpiles. The report said that the 15 dead were foreign citizens, and militia vehicles were reportedly seen at border crossings, carrying the bodies of the casualties into Iraq.
Media outlets aligned with the Syrian rebels said on Tuesday that the pro-Iranian militias were on alert following the strike.
Also on Monday, Syria's air-defense systems were activated against "hostile targets" southwest of Damascus on Monday evening, the Syrian news agency SANA reported.
A source in the Syrian military told SANA that at approximately 10:40 p.m., Israeli helicopters had fired missiles at a number of sites near Quneitra, causing unspecified "material damage."
The IDF confirmed that Israeli Air Force aircraft had targeted sites including "observation posts and intelligence collection systems, anti-aircraft artillery facilities, and command and control systems" at  Syrian army bases, in retaliation for an attempt earlier on Monday by a group of terrorists to place a bomb on the Israel-Syria border in the southern Golan Heights.
The IDF issued a statement saying that it held the Syrian regime responsible for all actions that occurred within Syria's borders, and that it would continue to take "determined action" against any attack on sovereign Israeli territory.
Tensions have been high on Israel's northern frontier following the Israeli airstrike that killed the Hezbollah fighter in Syria last month. Following the airstrike, the Israeli Golan Heights was hit by explosives fired from Syria, and Israel responded by attacking Syrian military positions and beefing up its forces in the area.
JOIN US IN PLANTING FRUIT TREES IN THE LAND OF ISRAEL!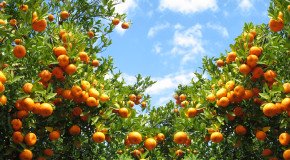 ISRAEL'S SUMMER PLANTING SEASON IS RIGHT NOW!

Make the Land of Israel even more beautiful and fruitful while helping Israeli farmers to recover from financial losses due to coronavirus and destructive Hamas arson fires.

"…for the Lord your God is bringing you into a good land… a land of wheat and barley, vines, figs and pomegranates, a land of olive oil and honey"
(Deuteronomy 8:7-8)


United with Israel