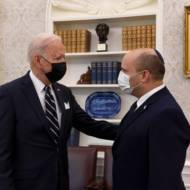 Biden Accepts Invitation to Visit Israel 'In Coming Months'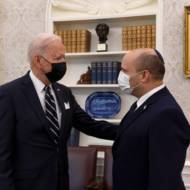 The heads of state also "discussed the Iranian issue, in particular the Iranian demand to remove the IRGC from the U.S. Foreign Terror Organization (FTO) list."
By JNS.org
During a conversation between Israeli Prime Minister Naftali Bennett and U.S. President Joe Biden, Sunday, the President "accepted the Prime Minister's invitation to visit Israel and announced that he intends to visit Israel in the coming months," according to a statement released by the Government Press Office.
Bennett "wished the President a happy Easter and updated him on the efforts to stop the violence and incitement in Jerusalem," the statement said. The heads of state also "discussed the Iranian issue, in particular the Iranian demand to remove the IRGC (Islamic Revolutionary Guards Corps) from the U.S. Foreign Terror Organization (FTO) list."
"I am sure that President Biden, who is a true friend of Israel and cares about its security, will not allow the IRGC to be removed from the list of terrorist organizations," Bennett stated. "Israel has clarified its position on the issue: The IRGC is the largest terrorist organization in the world.
Do You Love Israel? Make a Donation to Show Your Support!
Donate to vital charities that protect Israelis and help inspire millions around the world to support Israel too!
Now more than ever, Israel needs your help to fight – and win – the battle of public opinion.
Anti-Israel bias and boycotts are out of control. Israel's enemies effectively use social media to incite brutal terror against innocent Israeli civilians. Please help us fight back!
The post Biden Accepts Invitation to Visit Israel 'In Coming Months' first appeared on United with Israel.
United with Israel