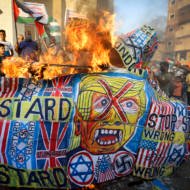 BDS Brought to its Knees: How Arab Peace Treaties Crush the Anti-Israel Movement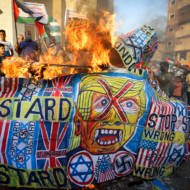 Israel's Minister of Strategic Affairs released a report documenting how the Jewish state's new peace treaties with Arab countries harm the anti-Israel BDS movement.
By Ezra Stone, United with Israel
The boycott, divestment, and sanctions movement (BDS) wants the world to think Israel is a horrible apartheid state that oppresses Arabs.
When the Jewish state signs peace treaties with its Arab neighbors, this false narrative is exposed for what it is: a strategy built on lies designed to destroy Israel.
On Wednesday, Israel's Strategic Affairs Ministry issued a report documenting how these new peace deals could deliver devastating blows to the BDS movement.
Specifically, the report shows how Israel's new peace agreements "invalidate the ideas on which the BDS movement is based," the Jerusalem Post reported.
According to the ministry, BDS' opposition to the new dawn in the Middle East exposes the movement's nefarious aims and its opposition to the peace process.
Israel's recent agreements with the United Arab Emirates and Bahrain "are a clear message to our enemies against hate and boycotts," commented Strategic Affairs Minister Orit Farkash-Hacohen, the Post reported.
Farkash-Hacohen added that she's optimistic that Israel's "closest neighbors will internalize the fact that resisting normalization will not bring peace but only preserve the cycle of violence."
U.S. President Donald Trump alluded to "five or six" additional Arab countries on the verge of making peace with Israel in the minutes before the "Abraham Accords" were signed.
The broader peace could be the nail in the coffin for BDS, which seeks a Middle East in which Israel magically disappears and the Jews of the Holy Land vanish.
HELP ISRAELIS BATTLE CORONA!
Donate to the Corona Emergency Relief Fund. Coronavirus has taken a huge toll on the people of Israel. The poor, elderly and ill are most vulnerable.

Israeli soldiers, security officers and medical care providers operate under great danger and risk to life.

Over 1 million Israelis are out of work. Many cannot make ends meet. We provide financial aid, food, medical supplies and more. Funds are distributed where needed most. The time to act is now!

United with Israel