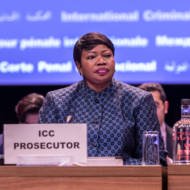 Israel Defeats ICC Witch Hunt Over Deadly Flotilla Stunt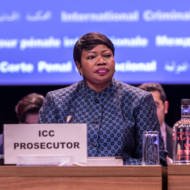 The International Criminal Court permanently closed the case in which anti-Israel activists tried to frame the IDF on charges of war crimes.
By Yakir Benzion, United With Israel
The International Criminal Court (ICC) on Wednesday dismissed an appeal against its previous decision, ending an investigation of Israel over the 2010 Gaza flotilla incident, AFP reported Wednesday.
As a result, the ICC is permanently closing the case in which anti-Israel activists tried to frame the IDF on charges of war crimes.
In 2010, the Israeli navy intercepted the Mavi Marmara, a Comoros-flagged Turkish ship, as it attempted to violate the blockade on Gaza.
The Mavi Marmara was part of a flotilla of Turkish vessels traveling to Gaza, pretending to deliver humanitarian aid and medical supplies, but in reality attempting to defy Israel's sovereignty and support the Hamas terror organization, which rules Gaza. Most of the humanitarian aid found on board were boxes of expired medication.
In total, 10 Turkish citizens died after they attacked Israeli commandos who boarded the ship that was trying to illegally breach the Gaza blockade.
The judges at the court rejected a request for a judicial review of the prosecutor's decision not to open an investigation.
A BBC documentary found that the Mavi Marmara was being controlled by a radical Islamic group from Turkey, the Foundation for Human Rights and Freedoms and Humanitarian Relief, or IHH. Those activists were shown making weapons, including iron bars with which they attacked the IDF soldiers.
The protesters on the boat claimed they would only engage in "passive resistance," but after watching a video of the incident, BBC reporter Jane Corbin concluded, "This is not passive resistance, this is fighting."
"What about the aid the IHH said was the reason for their mission? I found that two thirds of the medicines are out of date and useless," Corbin said.
Corbin's documentary, "Death in the Med," concluded that the Israeli troops had faced a violent, premeditated attack by a group of hardcore IHH activists, who intended to orchestrate a political act to put pressure on Israel.
The incident resulted in Turkey severing diplomatic ties with Israel, which were only restored in 2016.
HELP ISRAELIS BATTLE CORONA!
Donate to the Corona Emergency Relief Fund. Coronavirus has taken a huge toll on the people of Israel. The poor, elderly and ill are most vulnerable.

Israeli soldiers, security officers and medical care providers operate under great danger and risk to life.

Over 1 million Israelis are out of work. Many cannot make ends meet. We provide financial aid, food, medical supplies and more. Funds are distributed where needed most. The time to act is now!

United with Israel