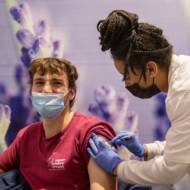 'Back to Life': All Israelis Over 16 to be Vaccinated by March

"We will be the first country to emerge from COVID-19," Prime Minister Benjamin Netanyahu declared.
By TPS
Israeli Prime Minister Benjamin Netanyahu announced on Thursday night that continued talks with Pfizer's CEO, Albert Burla, have resulted in an agreement that will see all willing Israelis over 16 vaccinated by the end of March.
"We will be the first country to emerge from COVID-19," Netanyahu declared.
Praising the efficiency of the Israeli National Healthcare system for the swift delivery of over 1.5 million vaccine doses to date, Netanyahu also credited the system with finalizing the deal and with the birth of the new vaccination campaign dubbed "Back to Life."
Netanyahu promised that details of the order of vaccination cohorts will be shared soon and that the first regular delivery of Pfizer vaccines to Israel will arrive as early as Sunday.
As part of the monumental agreement, Israel will be a global role model of successful grand-scale vaccination, and will publicly share all statistics and models which helped to design the programs to achieve this end.
Symbolically, Netanyahu envisioned the reunited families sitting around a seder table on Passover, the Holiday of Freedom. He said, "When asked what has changed this night, the answer will be: everything has changed, this night we are all changed."
Netanyahu concluded with words of caution, warning the population that despite Israel's successes in vaccinating, the sick-count is rising at an alarming rate. He urged all Israelis to adhere to the strict guidelines of the third lockdown in the hope that it will be the last one required.
The latest Health Ministry data shows that over 1,593,000 Israelis have been vaccinated against COVID-19 in the almost three weeks of Operation "Lend a Shoulder" to inoculate the population, consisting of close to 20% of the population.
HELP ISRAELIS BATTLE CORONA!
Donate to the Corona Emergency Relief Fund. Coronavirus has taken a huge toll on the people of Israel. The poor, elderly and ill are most vulnerable.

Israeli soldiers, security officers and medical care providers operate under great danger and risk to life.

Over 1 million Israelis are out of work. Many cannot make ends meet. We provide financial aid, food, medical supplies and more. Funds are distributed where needed most. The time to act is now!
The post 'Back to Life': All Israelis Over 16 to be Vaccinated by March first appeared on United with Israel.

United with Israel