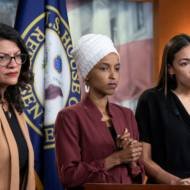 AOC 'Dream Cabinet' Would Be a Nightmare for Israel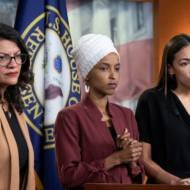 The New York congresswoman's supporters want to see Israel-haters like Rashida Tlaib and Ilhan Omar installed in influential posts in the U.S. government.
By Ezra Stone, United with Israel Staff
Congresswoman Alexandria Ocasio-Cortez (D-NY) on Tuesday polled her 10.2 million Twitter followers to see who they would select for their "dream cabinet" in the upcoming presidential administration.
Among the suggestions were some of the most vocal anti-Israel activists in Congress, including Rashida Tlaib and Ilhan Omar.
One respondent even suggested putting Omar in charge of Homeland Security, while advocating for Rashida Tlaib as U.S. attorney general. Another wanted Omar for Secretary of Defense.
Other suggestions included Keith Ellison, an erstwhile apologist for the notorious anti-Semite Louis Farrakhan of the Nation of Islam. As a student, Ellison introduced a presentation by Kwame Ture during which he called Zionism a form of white supremacy.
Returning to Omar and Tlaib, in addition to being vocal anti-Israel advocates they are also no strangers to accusations of anti-Semitism.
Omar, who is one of Congress' most high-profile BDS supporters, told a huge crowd at a Minneapolis synagogue during her campaign in 2018 that the anti-Israel movement is "not helpful," only to admit to a Muslim website following her victory that she fully supports targeting Israel with boycotts.
In her 2020 campaign, Omar called out specific donations that her opponent Antone Melton-Meaux received and added the names of Jewish donors, claiming voters can't trust Melton-Meaux because he is "in the pocket" of his donors and voters should question whose money controls his campaign.
The American Jewish Committee (AJC) condemned her remarks, calling them "reprehensible" and blasting her for "continuing to traffic in anti-Semitic tropes" and "seeking to fan the flames of anti-Semitism among her constituents."
Most recently, Omar falsely accused Israel of "ethnic cleansing" after the military removed tents in a closed military zone, which had been falsely portrayed as a "Palestinian village" despite the fact that it lacked basic amenities and consisted of only temporary structures that have been removed annually for military exercises for the past decade.
Those episodes followed Omar's "all about the Benjamins" claim, accusing pro-Israel lobby group AIPAC of paying elected officials to support the Jewish state, which she famously accused of "hypnotiz[ing] the world" and perpetrating "evil doings" in 2012.
Fantasy sports: presidential admin edition.

Who's in your dream cabinet?

— Alexandria Ocasio-Cortez (@AOC) November 10, 2020
Tlaib, for her part, has been called an anti-Semite for posting "Holocaust Remembrance" tweets that refuse to mention Jews and pushing the centuries-old dual loyalty canard about Jews.
After Israel banned the entry of Omar and Tlaib in 2019 based on their promotion of anti-Israel boycotts, then White House press secretary Hogan Gidley commented, "Tlaib and Omar have a well-documented history of anti-Semitic comments, anti-Semitic social media posts and anti-Semitic relationships. Israel has the right to prevent people who want to destroy it from entering the country — and Democrats' pointless Congressional inquiries here in America cannot change the laws Israel has passed to protect itself."
Ocasio-Cortez counts Tlaib and Omar among her closest allies in Congress. She also recently pulled out of a pro-peace event honoring the late Israeli prime minister Yitzhak Rabin in an apparent attempt to appease the most virulently anti-Israel elements among her supporters.
Let's hope the AOC "dream cabinet" never sees the light of day.
HELP ISRAELIS BATTLE CORONA!
Donate to the Corona Emergency Relief Fund. Coronavirus has taken a huge toll on the people of Israel. The poor, elderly and ill are most vulnerable.

Israeli soldiers, security officers and medical care providers operate under great danger and risk to life.

Over 1 million Israelis are out of work. Many cannot make ends meet. We provide financial aid, food, medical supplies and more. Funds are distributed where needed most. The time to act is now!
The post AOC 'Dream Cabinet' Would Be a Nightmare for Israel first appeared on United with Israel.

United with Israel