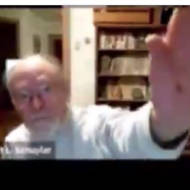 American Professor Gives Nazi Salute on Zoom Call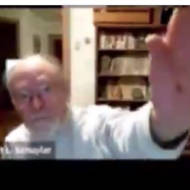 ADL calls on professor who used Nazi salute during Zoom conference to apologize, others demand he be fired.
By Yakir Benzion, United With Israel
A University of Pennsylvania anthropology professor is in hot water after he used a Nazi salute and phrase during a Zoom conference with other academics, the independent student newspaper The Daily Pennsylvanian reported Sunday.
Prof. Robert Schuyler of the university's department of anthropology was one of several academics participating in a Zoom call during the Society for Historical Archaeology's (SHA) annual conference when he was cut off by the moderator, Della Scott-Ireton, director of the University of West Florida Public Archaeology Network, who was trying to keep the discussion on the topic of the accessibility of documents for the SHA conference.
Schuyler wanted to talk about the effects of the coronavirus pandemic, but Scott-Ireton tried to steer the discussion back to the subject on the agenda.
A recording of the conference call shows Schuyler holding out his arm in a Nazi salute and saying "Sieg heil to you," saying: "I'm sorry, but I have freedom of speech, and you're not going to tell me it's not the place for me to bring this up."
Schuyler later admitted to The Daily Pennsylvanian that he did use the Nazi salute and phrase and said he personally does not endorse Nazism, adding that he began to regret his decision a few moments later after he received e-mails from other archaeologists saying that he should be censored and removed from the SHA.
OUTRAGEOUS – during a zoom meeting, U. Penn Professor Robert Schuyler threw up a nazi salute and said "heil sieg to you", believing his video/microphone were off.

Our question is – WHY IS HE STILL EMPLOYED @penn?! pic.twitter.com/TptLLtFEQh

— StopAntisemitism.org (@StopAntisemites) January 10, 2021
Daily Penn editor Conor Murray tweeted that "Students are demanding Penn fire prof Robert Schuyler, who used a Nazi salute during an altercation at an archaeology conference."
"Sieg heil" is known as the chant for "hail victory" used by the Nazis at rallies for Adolph Hitler, and the phrase is now used widely by neo-Nazis and white supremacists.
"We are disturbed that Robert Schuyler used a Nazi salute during a recent academic conference. Nazi comparisons in this context are unacceptable – they trivialize the horrors of the Holocaust and distract from the issues. Prof. Schuyler owes an apology to the attendees and community," the Anti Defamation League tweeted.
Because the story broke over the weekend, university officials only told the paper that "The University is initiating a review to determine the appropriate course [of] action."
University of York Ph.D. candidate Liz Quinlan filed a complaint with the SHA, saying the incident left her shaken.
"To not only be interrupted, but to be spoken to with such vitriol and anger by a senior researcher in my field is demoralizing, embarrassing, and deeply upsetting," Quinlan wrote. "The apparent inclusion of a Nazi salute and reference to a Nazi victory cry, whether done in jest or otherwise, is both enormously offensive and abhorrent."
Schuyler told the paper he believes he owes an apology, but is awaiting advice from senior people in his field about how to approach the situation.
"Actions have been taken internally to rectify the situation and ensure that a situation like this is addressed in a more timely manner moving forward," SHA Executive Director Karen Hutchinson told the Daily Pennsylvanian.
Keep Israeli Soldiers Warm – Send Winter Care Packages!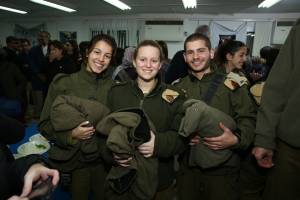 We are honored to thank the young men and women of the IDF who risk their lives every day to defend the citizens of Israel.
Join us in sending winter care packages and personal notes of support to Israeli soldiers who are out in the cold all day.
Warm up a soldier's heart with essential winter wear including fleece jackets. Keep an entire unit warm by ordering 10 packages…
THE SOLDIERS REALLY APPRECIATE YOUR LOVE AND CONCERN!
Click Here to Send Your Gift and Personal Note to Israeli Soldiers
The post American Professor Gives Nazi Salute on Zoom Call first appeared on United with Israel.

United with Israel