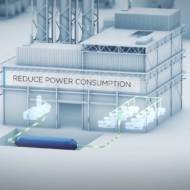 'Air Battery': Israeli System First-of-its-Kind to Generate Energy from Compressed Air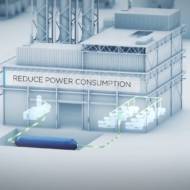 New project will store solar power by using giant tanks of compressed air to create electricity.
By Yakir Benzion, United With Israel
The Israeli hi-tech company Augwind won a government tender to build Israel's first renewable energy facility that compresses air and stores it as an "air battery" to generate electricity when needed.
Electricity is easy to make, but difficult to store for later use as needed. The two main methods are chemical storage by using huge banks of batteries, or pumping water uphill to a giant reservoir and then using gravity to let it flow through generators in a hydro-electric power plant.
Augwind's AirBattery has been in development for several years and its method stores the energy in the form of highly compressed air in giant underground reinforced storage tanks. Any excess electricity you don't need at the time is used to pump air into the tanks. When you need more electricity, the air is let out of the tanks and used to power generators to turn the stored energy back into electricity.
Last week Augwind announced it signed a memorandum of understanding with EDF Renewables Israel, a subsidiary of the Paris-based EDF conglomerate that is one of the largest multinational electricity utility companies in the world.
Augwind and EDF will build and operate a 5 MW solar power plant in Israel's Negev desert together with a 20 MWh AirBattery storage system. During the day, solar power will generate compressed air stored in the AirBatteries, which can be released at night to produce totally clean electricity.
The project is a pilot for future giant solar power farms. Last month Israel's Ministry of Energy announced plans to cut carbon emissions by 80% by the year 2050 for all of Israel's public electrical generating facilities, which all currently use fossil fuels.
The company said recent tests showed that the AirBattery's overall efficiency for commercial use with a capacity above 5 Megawatts is up to 81%, making it highly competitive with existing lithium battery storage systems, but much more environmentally friendly.
"The data presented by Augwind today is excellent news for the world of renewable energies in general and the world of energy storage in particular," said Augwind CEO and Founder Or Yogev.
Lithium batteries may have higher initial efficiency, but have the huge disadvantage that battery strength fades and they need to be replaced – an expensive and pollution-intensive endeavor.
"Lithium-ion systems contain chemical components, some of which are not recyclable, while Augwind's solution is designed to last for decades, while also being green, environmentally friendly, and based solely on water and air," the company said.
Augwind also builds compressed air systems for commercial use with giant underground air compression systems that can save of up to 40% of costs for companies that use compressed air in their manufacturing. Its current customers include local and global industries such as Pepsi, Tnuva, Strauss, Israel Aircraft Industries and Nesher Cement.
HELP ISRAELIS BATTLE CORONA!
Donate to the Corona Emergency Relief Fund. Coronavirus has taken a huge toll on the people of Israel. The poor, elderly and ill are most vulnerable.

Israeli soldiers, security officers and medical care providers operate under great danger and risk to life.

Over 1 million Israelis are out of work. Many cannot make ends meet. We provide financial aid, food, medical supplies and more. Funds are distributed where needed most. The time to act is now!
The post 'Air Battery': Israeli System First-of-its-Kind to Generate Energy from Compressed Air first appeared on United with Israel.

United with Israel