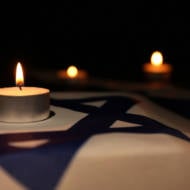 Yom HaShoah: Remember What Our Enemies Tried to Do to Us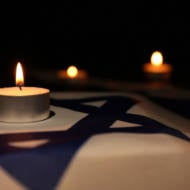 The Torah tells us to remember what our enemies have tried to do to us. The more we remember, the more we will be ready to defend ourselves from future onslaughts.
By Rabbi Ari Enkin, Rabbinic Director, United with Israel
Yom HaShoah, also known as Holocaust Remembrance Day, occurs on the 27th of the Hebrew month of Nisan, the anniversary of the start of the Warsaw Ghetto Uprising.
This year, it will be observed from Wednesday night April 27 through to Thursday night April 28.
The word "Shoah" means "catastrophe" or "devastation" in Hebrew, and it refers, of course, to the atrocities that were committed against the Jewish people during World War II. On this day we remember the victims who were murdered in previously unimaginable ways. The English word, "holocaust" derives from Greek meaning "sacrifice by fire."
The Holocaust was the largest manifestation of antisemitism and murder in recent history, if not for all time. We must take the time over these 24 hours to reflect on the forced labor, the starvation, the humiliation, and the torture, the freezing conditions, and of course, the attempted extermination of the Jewish people.
In Israel there is a state ceremony that is held in the "Warsaw Ghetto Square" at Yad Vashem — The World Holocaust Remembrance Center in Jerusalem — on the night of Yom HaShoah. During the day, ceremonies take place on military bases, in schools, and community centers. Places of entertainment are generally closed, especially for the first twelve hours of Yom HaShoah.
At 10 a.m. a siren is sounded throughout the entire country for Israelis to observe two minutes of silence. All traffic everywhere comes to a standstill. Drivers and passengers stand in front of their cars during these two minutes.
Jewish communities throughout the world also hold Yom HaShoah ceremonies.
They are often held in the local synagogues or Jewish community centers. At these ceremonies there will often be somber music, readings, poems, prayers, and the lighting of candles, usually six of them, to remember the six million Jews who were murdered. One is encouraged to make an effort to attend one f these ceremonies to ensure that we "never forget" what the Nazis tried to do to us.
Anyone who cannot attend a communal gathering should consider doing one or more of the following on their own.
• Say your own prayers. Perhaps a memorial prayer for the victims and a prayer for world peace.
• Read the stories of the survivors. Listen to what they were forced to endure. Learn about how they survived and built themselves up anew after the nightmare was over.
• Watch a Holocaust-related movie.
• Educate others about Yom HaShoah: Raise awareness for co-workers, neighbors, friends and children — in an age-appropriate way.
The Torah tells us to remember what our enemies have tried to do to us. And in every generation, there is someone trying to exterminate the Jews.
The more we remember, the more we will be ready and prepared to defend ourselves from future onslaughts. We must never let down our guard and never allow antisemitism to rear its ugly head.
Do You Love Israel? Make a Donation to Show Your Support!
Donate to vital charities that protect Israelis and help inspire millions around the world to support Israel too!
Now more than ever, Israel needs your help to fight – and win – the battle of public opinion.
Anti-Israel bias and boycotts are out of control. Israel's enemies effectively use social media to incite brutal terror against innocent Israeli civilians. Please help us fight back!
The post Yom HaShoah: Remember What Our Enemies Tried to Do to Us first appeared on United with Israel.
United with Israel