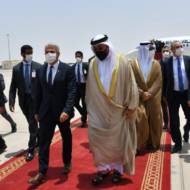 'We Chose Peace': Israel Opens Embassy in UAE During 1st State Visit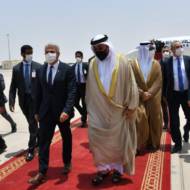 "Peace is the victory of all that is good," said Israeli Foreign Minister Yair Lapid.
By United With Israel Staff
Kicking off a landmark visit in the United Arab Emirates, Foreign Minister Yair Lapid inaugurated Israel's embassy in Abu Dhabi.
"Israel wants peace with all of its neighbors," Lapid said. "We aren't going anywhere. The Middle East is our home and we're here to stay, so we call on all countries in the region to recognize that and talk to us."
"We are standing here today because we chose peace over war, cooperation over conflict," He added. "War is the surrender to all that is bad within us; peace is the victory of all that is good."
In acknowledgement of former prime minister Benjamin Netanyahu, Lapid told diplomats gathered at the Israeli Embassy event that the former prime minister is "the architect of the Abraham Accords" and that "this moment is his, no less than it is ours."
Lapid also made point of thanking current and former U.S. Presidents Joe Biden and Donald Trump for their "uncompromising support."
Lapid was also due to hold talks with his Emirati counterpart, Foreign Minister Abdullah bin Zayed al Nahya on Tuesday.
On Wednesday, Lapid will dedicate Israel's consulate in Dubai, visit Israel's pavilion at the Dubai Expo 2020 trade fair, and meet with members of the UAE Jewish community. An estimated 3,000 Jews live in the Emirates.
Bilateral Israel-UAE is said to have exceeded $354 million while around 200,000 Israeli tourists have already visited the Persian Gulf state.
Underpinning UAE-Israel ties is a shared concern that Iran's nuclear deal with world powers did not go far enough to curb Tehran's reach in the region. The reservations by both countries about the deal helped propel quiet ties, long before they formally announced full diplomatic relations last year. Reviving the JCPOA agreement, which the U.S. withdrew from in 2018, is a key foreign policy priority for the Biden administration. The sixth round of indirect U.S.-Iran talks in Vienna concluded earlier in June with a new round yet to be scheduled.
Shortly after the UAE-Israel pact was signed, the Trump administration authorized the sale of 50 advanced F-35 fighter jets to the UAE, which would make it only the second country in the Middle East, after Israel, to acquire them. The Biden administration has vowed to go ahead with the sale of the jets and advanced armed drones.
Although Israel, the UAE and Bahrain established diplomatic relations last year, high level visits were repeatedly postponed because of the Covid pandemic, Israeli elections and other scheduling difficulties.
Associated Press contributed to this report.
Do You Love Israel? Make a Donation to Show Your Support!
Donate to vital charities that protect Israelis and help inspire millions around the world to support Israel too!
Now more than ever, Israel needs your help to fight – and win – the battle of public opinion.
Anti-Israel bias and boycotts are out of control. Israel's enemies effectively use social media to incite brutal terror against innocent Israeli civilians. Please help us fight back!
The post 'We Chose Peace': Israel Opens Embassy in UAE During 1st State Visit first appeared on United with Israel.
United with Israel