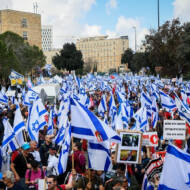 'WE ARE BROTHERS': Netanyahu Appeals to Protestors on Both Sides to 'Behave Responsibly'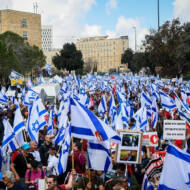 "I call on all the demonstrators, on the right and the left, to behave responsibly and not to act violently. We are brothers," the prime minister said.
By JNS
Israeli Prime Minister Benjamin Netanyahu on Monday afternoon called for calm ahead of opposing protests expected in the evening in Jerusalem over the government's judicial reform initiative.
A large demonstration was taking place outside of the Knesset in the afternoon featuring opponents of the ruling coalition and its reform proposals, while a pro-reform gathering was planned for the evening. There were fears of clashes breaking out, in part due to the expected participation of La Familia, a fan group affiliated with the Beitar Jerusalem soccer club with a history of violence.
A statement by the organizers of the pro-reform rally reads: "State of emergency, come to Jerusalem! They will not steal our elections, we must not give up the people's choice!"
Police said that they would increase their presence in anticipation of potential clashes.
"I call on all the demonstrators in Jerusalem, on the right and the left, to behave responsibly and not to act violently. We are brothers," Netanyahu posted to his Twitter account.
The premier was supposed to give a speech in the morning in which he was expected to call for a pause in the judicial reform legislative process, but it was delayed, reportedly due to disagreements within the governing coalition.
Demonstrations were taking place across the country on Monday, and many sectors of the economy were shut down after the Histadrut labor federation announced a general strike. Ben-Gurion Airport departures were halted, Haifa Port was shuttered and the Allenby Bridge crossing to Jordan was closed as workers walked out in protest of the judicial reforms.
Hospital services (except for urgent care), shopping malls, restaurant chains, gyms, banks and other institutions were also closed.
The latest round of mass demonstrations against judicial reform began on Sunday night after Netanyahu fired Defense Minister Yoav Gallant, who spoke on television in support of a temporary judicial reform legislative freeze.
Send Passover Packages to Needy Israeli Soldiers – Bring Them Joy!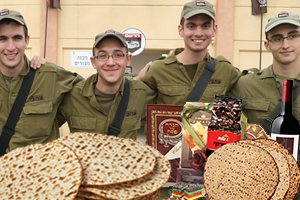 We are honored to thank the young men and women of the IDF who risk their lives every day to protect the freedom of the citizens of Israel.
Join us in sending Passover food packages (and personal notes) to Israeli soldiers and their families

Many soldiers spend the Passover holiday with needy families back home. The soldiers greatly appreciate your love and concern. Bring them Passover joy!
CLICK HERE TO SEND YOUR PACKAGE AND NOTE TO ISRAELI SOLDIERS!
The post 'WE ARE BROTHERS': Netanyahu Appeals to Protestors on Both Sides to 'Behave Responsibly' first appeared on United with Israel.
United with Israel