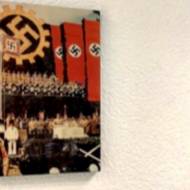 Volkswagen Blasted for Nazi Display in Dealership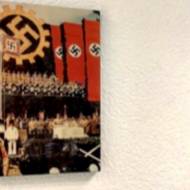 The Volkswagen company was centrally involved in the Nazi war effort and a dealership in Mexico was caught displaying an image of the genocidal regime responsible for the deaths of six million Jews.
By Algemeiner Staff
German car giant Volkswagen apologized on Monday after a customer at one of its showrooms in Mexico tweeted a photograph of Nazi imagery on the walls that quickly went viral.
Fernanda Martinez, a writer based in Mexico City, photographed the offending image during a visit to the Volkswagen showroom in Coyoacán on Saturday. A stylized photograph of a Nazi rally being addressed by Adolf Hitler was hanging from the wall.
Martinez tweeted the photo with an appeal to Volkswagen to act.
"The fact that their historical memory is an apology for racism causes sadness and deep concern," she wrote.
In a response posted the following day, the car manufacturer said that the image did not correspond to its "corporate image" and action would be taken.
"We have a history that we have learned from," the company said on its Mexican Twitter feed. "We value respect, fairness, inclusion and freedom. We do not tolerate manifestations of hatred and discrimination. The images do not correspond to our corporate image or that of the distributors. We will take action."
In a letter to Steffen Reiche — president of Volkswagen's operation in Mexico — the Simon Wiesenthal Centre (SWC) urged the company to cut ties with the dealership where the Nazi imagery was spotted.
"We expect you to immediately identify those responsible and publicly announce the action you will take. The most appropriate would be to drop the concession completely, in order to pass a clear message to your customers that you have learned from your history," the letter stated.
The Volkswagen brand was leading symbol of German Nazism in the 1930s, billed as the "people's car." The company was centrally involved in the subsequent Nazi war effort, producing military vehicles for the German armed forces.
HELP ISRAELIS BATTLE CORONA!
Donate to the Corona Emergency Relief Fund. Coronavirus has taken a huge toll on the people of Israel. The poor, elderly and ill are most vulnerable.

Israeli soldiers, security officers and medical care providers operate under great danger and risk to life.

Over 1 million Israelis are out of work. Many cannot make ends meet. We provide financial aid, food, medical supplies and more. Funds are distributed where needed most. The time to act is now!

United with Israel