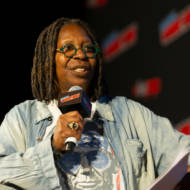 VIDEO: Whoopi Goldberg Says Holocaust Wasn't About Race, Later Apologizes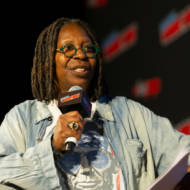 TV host Whoopi Goldberg had sparked backlash with comments on "The View."
You'd think that anyone who knows anything about the Holocaust knows that it was a strategic plan designed to annihilate the Jewish people.
Well, apparently some people slept during history class.
ABC's 'The View' host Whoopi Goldberg insisted that the Holocaust was "not about race" on last Sunday's show, creating tension among the co-hosts and sparking major backlash on social media. She later apologized on Twitter on The Late Show with Stephen Colbert.
Sparks fly as The View panel confronts Whoopi after she says "the Holocaust isn't about race. No. It's not about race."
"Well, the considered Jews a different race," Joy Behar says.

"But it's about white supremacy. It's about going after Jews and Gypsies," Ana Navarro adds. pic.twitter.com/GZwZSi2qXi

— Nicholas Fondacaro (@NickFondacaro) January 31, 2022
Do You Love Israel? Make a Donation to Show Your Support!
Donate to vital charities that protect Israelis and help inspire millions around the world to support Israel too!
Now more than ever, Israel needs your help to fight – and win – the battle of public opinion.
Anti-Israel bias and boycotts are out of control. Israel's enemies effectively use social media to incite brutal terror against innocent Israeli civilians. Please help us fight back!
The post WATCH: Whoopi Goldberg Says Holocaust Wasn't About Race, Later Apologizes first appeared on United with Israel.
United with Israel