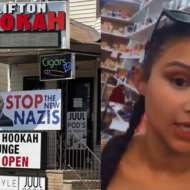 VIDEO: Unapologetic Israel-Haters Fly Nazi Symbol in New Jersey Hookah Shop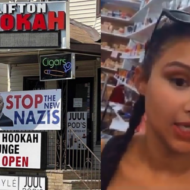 A New Jersey shop proudly displayed a swastika in a deeply anti-Semitic display of hatred for the Jewish state.
A hookah shop in New Jersey recently posted a large anti-Israel sign outside its front door featuring a giant swastika and a photo portraying former Israeli prime minister Benjamin Netanyahu as the genocidal monster Adolf Hitler-styled mustache.
StopAntisemitism.org posted a video on Twitter of an employee named Liz Mart brazenly telling the camera the sign would not be removed.
The shop eventually removed the sign, which it raised amid a rash of horrific anti-Semitic violence throughout the U.S., with many incidents perpetrated by pro-Palestinian "protesters."
Clifton, NJ – a hookah shop refers to the Jewish nation and her Prime Minister (former) as Nazis.

This vile comparison is deemed antisemitic by #IHRA and once again shows us the importance of having such a definition. pic.twitter.com/bQiixYOyXX

— StopAntisemitism.org (@StopAntisemites) June 12, 2021
Do You Love Israel? Make a Donation to Show Your Support!
Donate to vital charities that protect Israelis and help inspire millions around the world to support Israel too!
Now more than ever, Israel needs your help to fight – and win – the battle of public opinion.
Anti-Israel bias and boycotts are out of control. Israel's enemies effectively use social media to incite brutal terror against innocent Israeli civilians. Please help us fight back!
The post WATCH: Unapologetic Israel-Haters Fly Nazi Symbol in New Jersey Hookah Shop first appeared on United with Israel.
United with Israel