VIDEO: The Incredible Story of a Special Needs IDF Soldier

Instead of accepting an exemption from the IDF because of his disability, Itai Kaufman joined Special in Uniform and has even gone on to receive a special award!
The army draft in Israel applies to all young men and women with a few exceptions, including for those with disabilities.
Although Itai Kaufman qualifies for an exemption due to his Asperger's Syndrome diagnosis, he was determined to serve his country just like everyone else.
Watch and learn about his unbelievable story and how he received an award for cracking complex codes in a specialized top-secret IDF cyber unit!
JOIN US IN PLANTING FRUIT TREES IN THE LAND OF ISRAEL!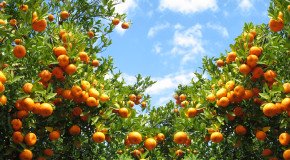 ISRAEL'S SUMMER PLANTING SEASON IS RIGHT NOW!

Make the Land of Israel even more beautiful and fruitful while helping Israeli farmers to recover from financial losses due to coronavirus and destructive Hamas arson fires.

"…for the Lord your God is bringing you into a good land… a land of wheat and barley, vines, figs and pomegranates, a land of olive oil and honey"
(Deuteronomy 8:7-8)


United with Israel