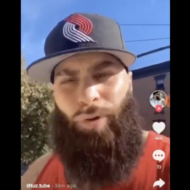 VIDEO: Palestinian in NY Brags About Harassing Jews, Twitter Calls Him a Fraud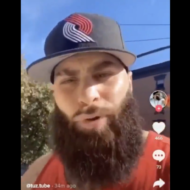 This Palestinian New Yorker bragged on social media about committing an anti-Semitic attack, but many on Twitter accused him of being a hatemongering fraud.
A man named Yazied Assad who claimc to be Palestinian shamelessly boasted on TikTok that he snatched a kipa and T-shirt from an IDF veteran, but the Twitter-verse immediately began poking holes in the tough-talking Brooklyn man's story.
Several of the commenters on the post pointed out that the T-shirt and kipa Assad claimed to have forcefully robbed from an "IDF veteran" after threatening to "choke" him appeared to be brand new items purchased from a store.
With a huge spike in violent anti-Semitic hate crimes gripping New York, let's hope this disturbing video is the work of a hate-filled fraudster, and not the confession of a violent criminal.
Yazied Assad, a Brooklyn man, states on #tiktok he snatched a #Jewish man's kippah away from him and is going to wipe his ass with it. pic.twitter.com/CKRuVv9ETN

— www.StopAntisemitism.org (@StopAntisemitsm) September 6, 2020
HELP ISRAELIS BATTLE CORONA!
Donate to the Corona Emergency Relief Fund. Coronavirus has taken a huge toll on the people of Israel. The poor, elderly and ill are most vulnerable.

Israeli soldiers, security officers and medical care providers operate under great danger and risk to life.

Over 1 million Israelis are out of work. Many cannot make ends meet. We provide financial aid, food, medical supplies and more. Funds are distributed where needed most. The time to act is now!

United with Israel