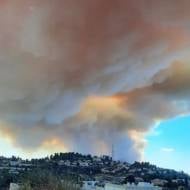 VIDEO: Massive Blaze Outside Jerusalem; 10,000 Evacuated, Winery Burnt to Ashes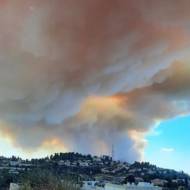 Arson is suspected as the cause of the most devastating wildfire in the Jerusalem district in recent years.
A massive wildfire that began Sunday afternoon in the forested hills west of Jerusalem is still not completely under control as of Monday evening.
At least 10,000 people were evacuated from six communities. Several homes were completely destroyed.
Police are also searching for a missing man from a psychiatric hospital in the area.
Arutz-7 reports that Metzuda Winery was burned to the ground with an estimated 8 million shekels' ($2.5 million) worth of damages.
#Jerusalem facing terrible, raging fires burning down hundreds of dunams of forest and endangering nearby communities. Hundreds have been evacuated as authorities are attempting to get the fires under control

— Adam Milstein (@AdamMilstein) August 15, 2021
Do You Love Israel? Make a Donation to Show Your Support!
Donate to vital charities that protect Israelis and help inspire millions around the world to support Israel too!
Now more than ever, Israel needs your help to fight – and win – the battle of public opinion.
Anti-Israel bias and boycotts are out of control. Israel's enemies effectively use social media to incite brutal terror against innocent Israeli civilians. Please help us fight back!
The post WATCH: Massive Blaze Outside Jerusalem; 10,000 Evacuated, Winery Burnt to Ashes first appeared on United with Israel.
United with Israel