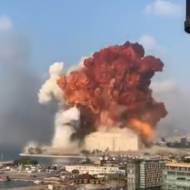 VIDEO: Lebanon Rocked by Massive Fireball Hours After Netanyahu Warns Hezbollah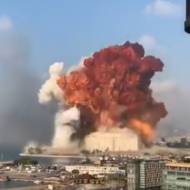 Huge blasts tore through Beirut on Tuesday, causing dozens of deaths and thousands of injuries.
On Tuesday, massive explosions were seen at the port in Beirut, Lebanon, a nation dominated by the Iran-backed Hezbollah terror group.
Hours earlier, Israeli Prime Minister Benjamin Netanyahu warned the Lebanese terror group, "We hit a cell and now we hit the dispatchers. We will do what is necessary in order to defend ourselves. I suggest to all of them, including Hezbollah, to consider this," the Associated Press reported.
On Tuesday evening, Israel denied any involvement in the explosion.
Stunning video shows explosions just minutes ago at Beirut port pic.twitter.com/ZjltF0VcTr

— Borzou Daragahi (@borzou) August 4, 2020
Footage from the massive explosion in Beirut Port, Lebanon pic.twitter.com/bdvzrS05Qf

— Beirut Today (@bey_today) August 4, 2020
HELP ISRAELIS BATTLE CORONA!
Donate to the Corona Emergency Relief Fund. Coronavirus has taken a huge toll on the people of Israel. The poor, elderly and ill are most vulnerable.

Israeli soldiers, security officers and medical care providers operate under great danger and risk to life.

Over 1 million Israelis are out of work. Many cannot make ends meet. We provide financial aid, food, medical supplies and more. Funds are distributed where needed most. The time to act is now!

United with Israel