VIDEO: Israeli Arab Blasts UN for Anti-Israel Bias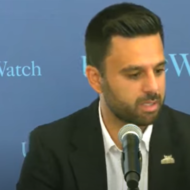 Yoseph Haddad is "fed up" with the UN's anti-Israel bias which is causing more harm.
A new report by the U.N. Human Rights Commission that was released last week, blamed Israel for perpetuating the Mideast conflict.
The probe was headed by Navi Pillay who has made her anti-Israel bias very clear.
Yoseph Haddad, an Israeli Arab, expressed his disgust over the antisemitic report and said who is really responsible for fanning the flames of violence and tension in the region. He was speaking at a UN Watch event in Geneva, where the Council is debating the report.
הגעתי לז'נבה בהזמנת @UNWatch כדי לחשוף את הצביעות של המועצה לזכויות אדם של האו"ם נגד ישראל, וזה קטע מהנאום שלי ומהמסר שהיה לי חשוב להעביר להם. pic.twitter.com/vDrNxCfEXu

— יוסף חדאד – Yoseph Haddad (@YosephHaddad) June 13, 2022
Do You Love Israel? Make a Donation to Show Your Support!
Donate to vital charities that protect Israelis and help inspire millions around the world to support Israel too!
Now more than ever, Israel needs your help to fight – and win – the battle of public opinion.
Anti-Israel bias and boycotts are out of control. Israel's enemies effectively use social media to incite brutal terror against innocent Israeli civilians. Please help us fight back!
The post WATCH: Israeli Arab Blasts UN for Anti-Israel Bias first appeared on United with Israel.
United with Israel