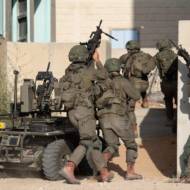 VIDEO: IDF Soldiers Thwart Shooting in Samaria

Alert IDF soldiers thwarted an attempted shooting attack from a passing vehicle near Shechem (Nablus) in Samaria.
IDF troops stationed south of Shechem prevented a shooting attack coming from a passing vehicle.
The terrorist, identified as Balal Adnan Rawajba, served in the Palestinian Authority's security services.
According to IDF sources, the weapon used in the attack was given to Rawajba by the Palestinian Authority.
Do You Love Israel? Make a Donation to Show Your Support!
Donate to vital charities that protect Israelis and help inspire millions around the world to support Israel too!
Now more than ever, Israel needs your help to fight – and win – the battle of public opinion.
Anti-Israel bias and boycotts are out of control. Israel's enemies effectively use social media to incite brutal terror against innocent Israeli civilians. Please help us fight back!
The post WATCH: IDF Soldiers Thwart Shooting in Samaria first appeared on United with Israel.

United with Israel