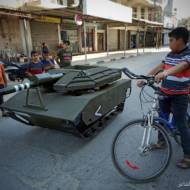 VIDEO: Are Palestinians Using a Toy Tank to Lure Child Soldiers?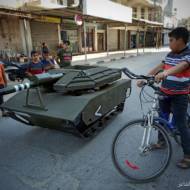 Palestinians shlepped a toy Merkava tank in the streets of Gaza thus week.
During the summertime in Gaza, Hamas runs camps to train and recruit Palestinian minors.
These children are groomed to become the next generation of terrorists and martyrs in the Palestinians' never-ending war on the Jewish state.
This week, they rolled out a new tool in their push to attract child soldiers: a toy replica of a Merkava tank.
A Palestinian-made toy Merkava tank for children. pic.twitter.com/SWEnlSSEWg

— Joe Truzman (@JoeTruzman) July 28, 2021
Do You Love Israel? Make a Donation to Show Your Support!
Donate to vital charities that protect Israelis and help inspire millions around the world to support Israel too!
Now more than ever, Israel needs your help to fight – and win – the battle of public opinion.
Anti-Israel bias and boycotts are out of control. Israel's enemies effectively use social media to incite brutal terror against innocent Israeli civilians. Please help us fight back!
The post WATCH: Are Palestinians Using a Toy Tank to Lure Child Soldiers? first appeared on United with Israel.
United with Israel