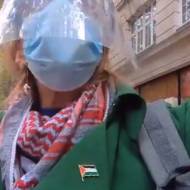 VIDEO: Anti-Israel Protester Doesn't Know Palestinians are Arabs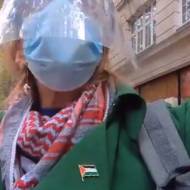 An anti-Israel protester says she hates Arabs and then refuses to believe that Palestinians are Arabs.
While debating the Israeli-Palestinian conflict at a demonstration, an anti-Israel woman who is wearing a keffiyeh, a traditional Arabian headdress, says that she hates the Arabs and that Palestinians aren't Arabs, but 'Semites' like the Jews.
It's hard not to be dumbfounded by the complete ignorance of many of the anti-Israel activists who don't even know there are Palestinian Arabs.
'Palestine Action' supporter at today's anti-Israel demonstration hates Arabs…

Yup. when I pointed out Palestinians were Arabs she refused to accept it.

Sometimes even I am left speechless by their ignorance and stupidy – watch pic.twitter.com/fvT6HbktvF

— David Collier (@mishtal) October 10, 2020
JOIN US IN PLANTING FRUIT TREES IN THE LAND OF ISRAEL!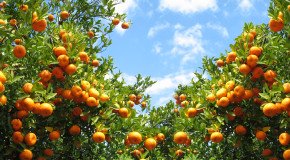 ISRAEL'S SUMMER PLANTING SEASON IS RIGHT NOW!

Make the Land of Israel even more beautiful and fruitful while helping Israeli farmers to recover from financial losses due to coronavirus and destructive Hamas arson fires.

"…for the Lord your God is bringing you into a good land… a land of wheat and barley, vines, figs and pomegranates, a land of olive oil and honey"
(Deuteronomy 8:7-8)


United with Israel