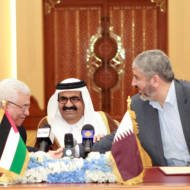 US Victims of Terror Sue Qatari Banks Over Funding Terror Against Israel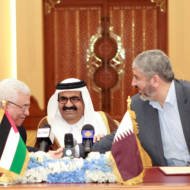 Families of Americans killed in Palestinian terror attacks say banks and charity in Qatar helped fund Hamas and Islamic Jihad.
By Yakir Benzion, United With Israel
American victims of terrorist violence in Israel filed two lawsuits in federal court in Brooklyn claiming that Qatari banks and charities funneled millions of dollars to Palestinian terror groups whose victims included American citizens, the Washington Post reported this week.
The victims and their families claim that it wasn't just the banks, but the Qatari government and members of the royal family who spearheaded "a terrorism financing conspiracy" that put tens of millions dollars into the coffers of the Hamas and Palestinian Islamic Jihad (PIJ) terrorist groups based in Gaza, the report said.
The U.S. government, as well as many others around the world, have designated both organizations as terrorist groups.
The lawsuits claim that payments from Qatar were disguised as charitable donations and were funneled through the U.S. banking system beginning in 2014, eventually ending up in bank accounts controlled by Hamas terrorists that helped fund seven terror attacks, including stabbings, car-rammings and rocket attacks that killed several U.S. citizens.
"No family should have to endure the loss we have experienced," said Stuart and Robbi Force, the parents of Taylor Force who was stabbed to death by a Palestinian terrorist while on a graduate school visit to Israel in 2016. Force's name is on the Taylor Force Act, a bipartisan law passed in 2018 that blocks American aid to the Palestinian Authority while it continues to pay reward money to the families of terrorists, including Taylor Force's murderer.
"In addition to holding the banks and illegitimate 'charities' who enable terrorism accountable, our fervent hope is that this lawsuit serves as a deterrent to those who might engage in similar actions," the Forces said in a statement. "We believe that the best way to honor our son's memory is to help prevent future attacks."
The lawsuits list 57 plaintiffs and 11 victims of terror attacks since 2014 that are linked to Qatari funding.
The Qatar government did not immediately respond to a request for comment from the Post, nor did the banks or the Qatar charity listed in the lawsuits.
The U.S. maintains a large armed forces bases in Qatar, including the As Sayliyah Army Base and the sprawling Al Udeid Air Base, the largest U.S. base in the region. However, Qatar's neighbors in the Gulf, led by Saudi Arabia, severed ties in 2016, accusing Qatar of supporting terrorism, especially the Muslim Brotherhood, which is banned in Egypt as a terror group.
The Brotherhood is the parent organization of the Hamas terror group in Gaza and Qatar. With the full knowledge and support of Israel, Qatar delivers tens of millions of dollars in cash monthly to Gaza to help ease the massive poverty there under Hamas rule, but also keep Hamas from collapsing and Gaza from devolving into total chaos.
"By allowing Qatar Charity to use accounts at the banks to funnel money to Hamas and PIJ, the banks were joining a conspiracy intended to commit acts of international terrorism, including the kidnapping and murder of Americans in Israel," said the lawsuit filed by the family of Pinches Przewozman, an American citizen killed in a rocket attack from Gaza last year.
"If Qatar is going to earn its way back into the good graces of its Gulf [neighbors] and, more broadly, Western countries and the United States, it needs to make some type of public accounting and apology, frankly, for this pattern of actions rather than try to deny or obstruct it," lawyer Steve Perles told the Post.
Keep Israeli Soldiers Warm – Send Winter Care Packages!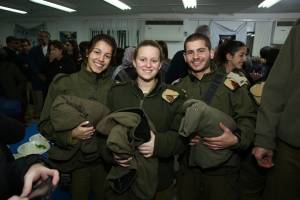 We are honored to thank the young men and women of the IDF who risk their lives every day to defend the citizens of Israel.
Join us in sending winter care packages and personal notes of support to Israeli soldiers who are out in the cold all day.
Warm up a soldier's heart with essential winter wear including fleece jackets. Keep an entire unit warm by ordering 10 packages…
THE SOLDIERS REALLY APPRECIATE YOUR LOVE AND CONCERN!
Click Here to Send Your Gift and Personal Note to Israeli Soldiers
The post US Victims of Terror Sue Qatari Banks Over Funding Terror Against Israel first appeared on United with Israel.

United with Israel