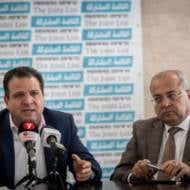 Ukrainian Leader Addresses Israel, Arab MKs Boycott Speech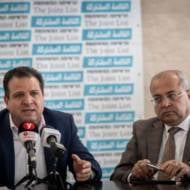 Of the 10 MKs from the Knesset's two Arab parties, only Walid Taha of the Ra'am party joined in.
By Pesach Benson, United With Israel
As Ukrainian President Volodymyr Zelensky addressed the Knesset and the Israeli public on Sunday night, conspicuous in their absence were Arab lawmakers who boycotted the speech.
Of the 10 MKs from the Knesset's two Arab parties, only Walid Taha of the Ra'am party joined in. The overwhelming majority of MKs from coalition and opposition parties all participated.
Joint List leader Ayman Odeh and the members of his party's Taal faction — MKs Aida Touma Sliman and Ofer Cassif — boycotted the speech as did Samy Abu Shahada of the Joint List's Balad faction.
Cassif, the Joint List's sole Jewish MK, who identifies himself as a Marxist, tweeted his intention to boycott Zelensky ahead of time.
"Very sad that good leftists are being deceived after false propaganda — and even expect my friends and me to align with the lies being fed to us," Cassif tweeted on Sunday. "I do not take sides in unnecessary wars that harm innocent civilians, strengthen those in power and enrich the lords of war."
According to Hebrew media reports, Joint List MKs Ahmad Tibi and Osama Sa'adi opted to watch the address on TV rather participate in the Zoom connection arranged for the MKs. Both are from the party's Taal faction.
Mansour Dahamsheh, secretary-general of the Hadash faction, told the Times of Israel, "Our position is that NATO and its leader America imposed this war."
In the smaller Ra'am party, which is part of the governing coalition, party leader Mansour Abbas was speaking at a conference in Haifa during Zelensky's speech.
Ra'am MKs Iman Khatib-Yasin and Mazen Ghanaim didn't participate by Zoom. It wasn't clear if they watched the address on TV. A Ra'am spokesman didn't respond to requests for comment.
Meanwhile, Palestinian leaders in both Ramallah and Gaza have been uncharacteristically quiet and deeply worried by Russia's invasion of Ukraine.
Zelensky's speech received mixed reactions from the Israeli public. He called on Israel to provide weapons and be more accepting of refugees, but he also drew comparisons to the Nazi Holocaust, which Israelis criticized.
In a follow up video posted on social media later on Sunday, Zelensky expressed his appreciation for Israeli humanitarian aid and Prime Minister Naftali Bennett's mediation.
Israelis are sympathetic to Ukraine but divided on how much and what kind of aid to provide without provoking Russia. Of particular concern is maintaining the Air Force's freedom of action in Syria's skies in air strikes against Iran and its proxies.
Do You Love Israel? Make a Donation to Show Your Support!
Donate to vital charities that protect Israelis and help inspire millions around the world to support Israel too!
Now more than ever, Israel needs your help to fight – and win – the battle of public opinion.
Anti-Israel bias and boycotts are out of control. Israel's enemies effectively use social media to incite brutal terror against innocent Israeli civilians. Please help us fight back!
The post Ukrainian Leader Addresses Israel, Arab MKs Boycott Speech first appeared on United with Israel.
United with Israel