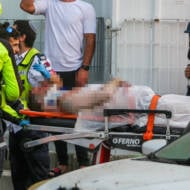 Two Dead, Dozens Wounded as Palestinian Terror Rockets Pound Ashkelon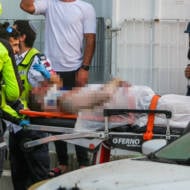 Massive attack by terrorist rockets against Israeli civilians claims first victims. IDF strikes back, killing senior terrorists; IDF Chief of Staff orders call-up of 5,000 reservists.
By Yakir Benzion, United With Israel
Two residents of the coastal city of Ashkelon were killed Tuesday and dozens of people have been injured after Palestinian terrorists in Gaza fired hundreds of rockets at Israeli towns and cities.
The attacks began Monday when terrorists in Gaza fired seven rockets at Jerusalem, claiming they were supporting the Arab rioters in Jerusalem who were "defending" the Al Aqsa mosque on the Temple Mount in Jerusalem, then fired dozens more at Israeli towns and cities closer to Gaza.
The rockets fired at Jerusalem exploded in communities west of the cities, causing fires and damage, but no injuries. The rocket fire continued all night with over 500 rockets fired at Israeli civilian centers by Tuesday afternoon.
Israel's Iron Dome missile defense system shot down dozens of rockets that would have exploded in populated areas, but several rockets managed to get through the defenses, including two that slammed into residences in Ashkelon.
Two women were killed when the rockets blew up in a private home and in an apartment building. At least 40 others, including several children and a pregnant woman, were wounded – one seriously.
"Hamas has fired 137 rockets at Ashkelon in one barrage. Targeting civilians is a war crime," tweeted Prime Minister Benjamin Netanyahu's Arab Affairs spokesman Ofir Gendelman.
Israelis living in the area in close proximity the Gaza Strip generally have a maximum of 15 seconds to seek shelter after radar detects rocket launches and triggers air raid sirens. That time stretches to 90 seconds for the Jerusalem area – the time it takes for the rocket to fly from Gaza before exploding at the end of its flight.
In response, the IDF has been attacking Hamas and Islamic Jihad targets. IDF Chief of Staff Lt.-Gen. Aviv Kochavi ordered the call-up of 5,000 reservists in the wake of the escalating security situation.
The IDF said that over 130 strikes that have killed senior members of the Islamic Jihad, including the head of its rocket program.
The first rocket attack Monday came as Israel celebrated Jerusalem Day, commemorating the reunification of the city in 1967. Shortly after the first rocket attacks, Netanyahu issued a stern warning to the Hamas terror group that controls Gaza.
"We are in a fight on several fronts: Jerusalem, Gaza and elsewhere in the country. This evening, on Jerusalem Day, the terrorist organizations in Gaza have crossed a red line and attacked us with missiles in the outskirts of Jerusalem," Netanyahu said.
"Israel will respond with great force," he added. "We will not tolerate attacks on our territory, on our capital, on our citizens and on our soldiers. Whoever attacks us will pay a heavy price."
JOIN ISRAEL'S MASSIVE SPRING PLANTING OF FRUIT TREES!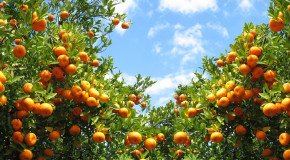 SPRING IS THE BEST TIME TO PLANT YOUR FRUIT TREES!

Make the Land of Israel even more beautiful and fruitful while helping Israeli farmers to recover from financial losses due to COVID-19 and devastating Hamas arson fires.

"…for the Lord your God is bringing you into a good land… a land of wheat and barley, vines, figs and pomegranates, a land of olive oil and honey"
(Deuteronomy 8:7-8)

The post Two Dead, Dozens Wounded as Palestinian Terror Rockets Pound Ashkelon first appeared on United with Israel.
United with Israel