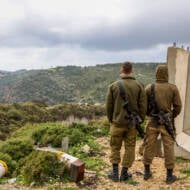 Three IDF Soldiers Wounded in Lebanon Mine Detonation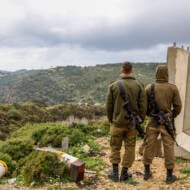 An Israeli army vehicle driving along the frontier reportedly set off the explosion.
By JNS
A mine explosion along the border with Lebanon injured three Israeli soldiers on Tuesday.
The blast was reportedly set off by an IDF vehicle driving along the frontier.
The IDF earlier Tuesday said that the terrorist who placed a roadside bomb along the Route 65 highway in northern Israel on March 13 infiltrated the country from Lebanon using a ladder to climb over the border fence.
The terrorist was not spotted by soldiers at lookout posts, nor did he set off the detection system, said the military.
The military has not named who it believes dispatched the terrorist, but it is suspected that Hezbollah was involved.
The bomb, which was placed behind a barrier near Megiddo Junction some 18 miles southeast of Haifa and 37 miles from the Lebanese border, detonated at around 6 a.m., seriously wounding Shareef ad-Din, 21, a resident of the Israeli Arab town of Salem.
After the blast, the IDF, Israel Security Agency (Shin Bet) and Israel Police launched an intensive search for the terrorist, including the establishment of roadblocks in northern Israel. The terrorist, who was equipped with a suicide vest and a rifle, was killed by security forces after being stopped at a checkpoint near the village of Ya'ara.
Security sources believe the suspect likely planned to carry out an additional attack before possibly seeking to return to Lebanon.
Send Passover Packages to Needy Israeli Soldiers – Bring Them Joy!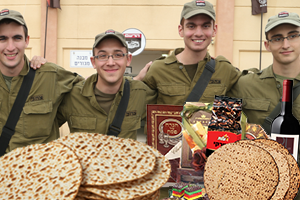 We are honored to thank the young men and women of the IDF who risk their lives every day to protect the freedom of the citizens of Israel.
Join us in sending Passover food packages (and personal notes) to Israeli soldiers and their families

Many soldiers spend the Passover holiday with needy families back home. The soldiers greatly appreciate your love and concern. Bring them Passover joy!
CLICK HERE TO SEND YOUR PACKAGE AND NOTE TO ISRAELI SOLDIERS!
The post Three IDF Soldiers Wounded in Lebanon Mine Detonation first appeared on United with Israel.
United with Israel